This is a sponsored post written by me on behalf of SharpSpring CRM. All opinions are 100% mine.
If you aren't using a CRM (Customer Relationship Management) tool, you don't know what you're missing.
In fact, if we were in person, I'd shake you a bit and sit you down to go over the many reasons why you should be using one.
CRM is not a buzz word, it's simply one of the best creations in the digital age. When it's a well-designed CRM, it acts like a Rolodex on steroids plus every tool you can imagine to handle leads and your pipeline.
Now you may think that leads and pipelines are words for only a corporate setting, but anyone who is doing anything online where they are marketing something, themselves, a service a blog, etc. is already managing leads and pipelines. You may just not refer to it as that.
I'm really digging SharpSpring CRM's free CRM for small businesses right now, and I'm going to tell you why you need to check them out.
In fact, I'm going to give you 10 fabulous reasons why you should check them out.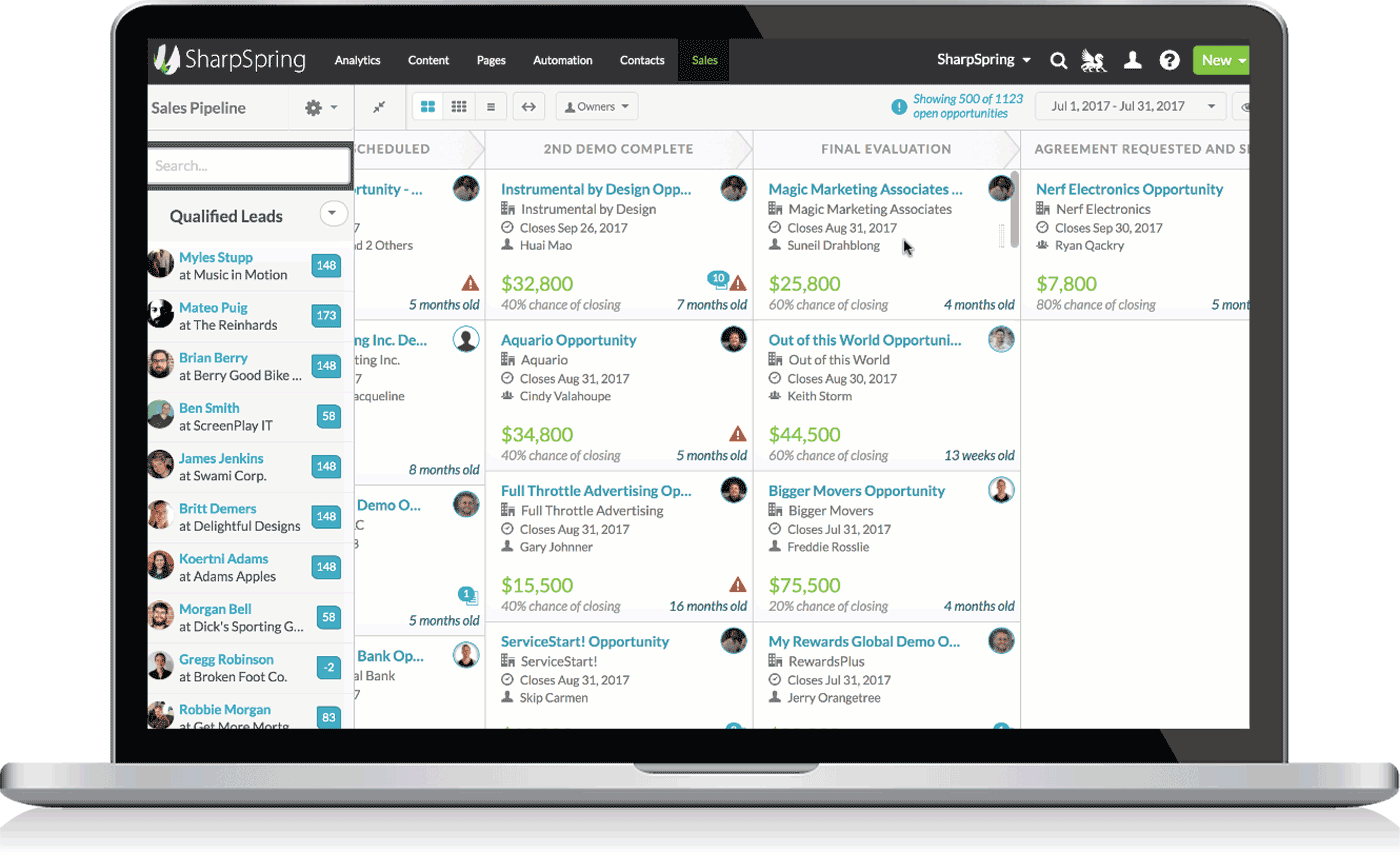 #1: F.R.E.E.
First and foremost, it's FREE. There is no cost up front. You don't even need a credit card. That means zero risk for you to try it out and fall in love.
The only investment you need to make is time to learn how to use it. That said, SharpSpring CRM is extremely intuitive and easy to use. There really isn't a learning curve and you can be up and running in minutes.
Just follow the easy wizards and you're good to go.
#2: Over 7,000 Happy Customers
You're in great company, because there are already over 7,000 other people who love and trust SharpSpring with their CRM needs.
In fact, SharpSpring has leveraged this community of users by creating a community forum where you can ask and answer questions and read valuable insights from other users.
#3: Unlimited Contacts & More
SharpSpring CRM offers you UNLIMITED contacts, accounts, opportunities and products. I can't begin to tell you what a differentiator that is. There is no need to limit yourself to what you import which makes this a truly free sales CRM.
#4: See Every Interaction with Your Contact
This is one of my favorite features. There is nothing better than to be able to pull up a contact and see every single interaction they have had with your website, yourself and your team. Why would you ever jump on a phone call without this?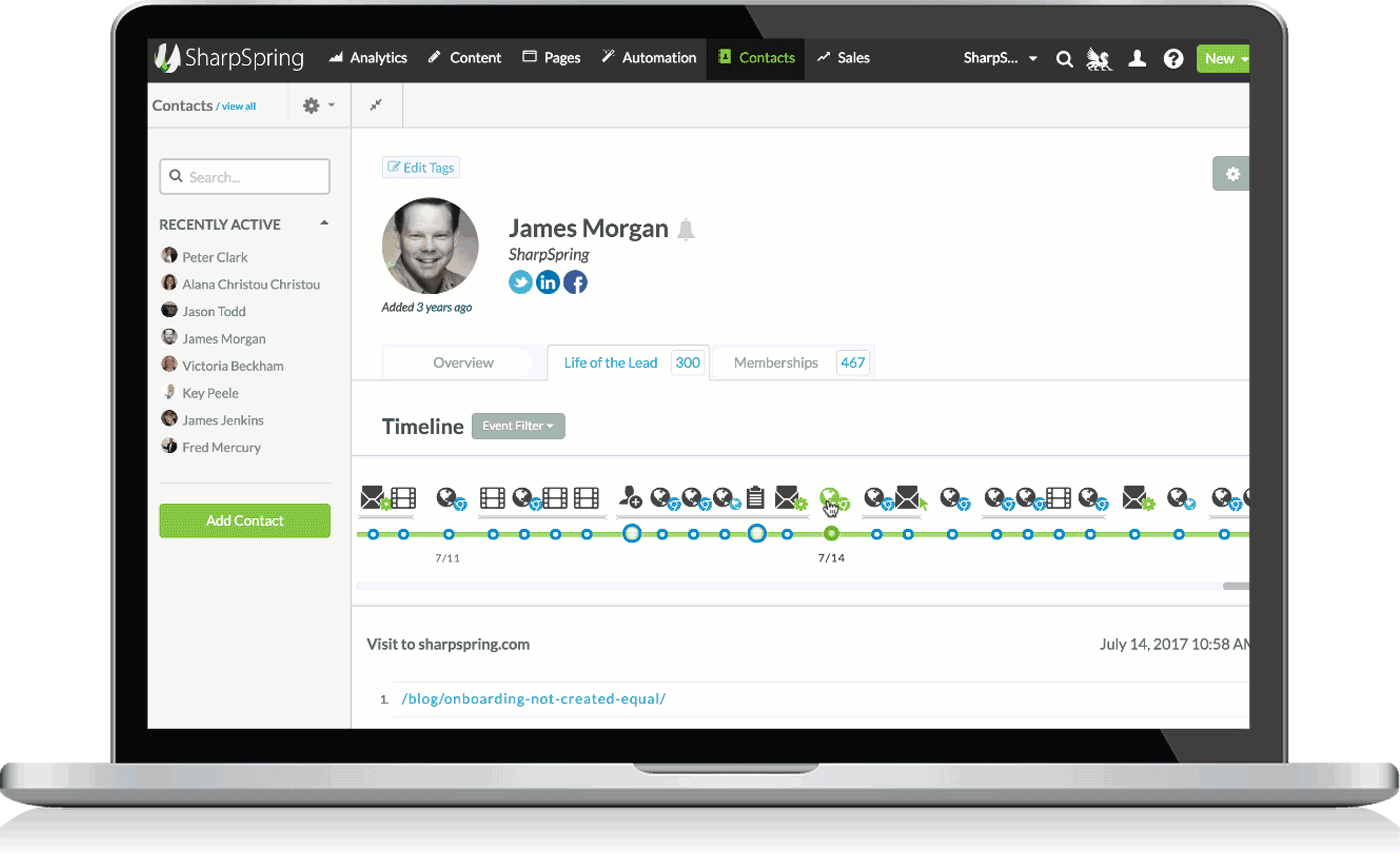 #5: Social Media Tracking & Rules
For my social marketing peeps: They have social media listening, so you can interact with posts from social media. Create listening feeds, monitor and respond to contacts on social media.
You can use the social media dashboard to see what folks are saying about your brand, competitors and industry. You can find and filter conversations using hashtags or keywords, and engage with posts right from SharpSpring CRM.
#6 Track Website Visitors
SharpSpring offers the only free CRM with web visitor tracking. Not only do you see what happens with a new lead, but you will receive instant notifications when contacts r return to the website. You'll basically be able to gauge a lead's level of interest easily with tracking. And it all shows up on that awesome pipeline!
#7 Email Templates
It's easy to create email campaigns thanks to the intuitive email designer which offers fully designed email templates. Remember, these email campaigns all tie in with your leads so you'll be able to see how they perform on the campaign level and on the lead level. That leads me to one of my favorite words in marketing; granular.
#8 Lead Capture Forms
SharpSpring CRM is also one of the only platforms with lead capture forms. This means you can easily create a form, post it on your site and the leads will automatically be added to your database.
#9 CRM Integration
This is huge here folks. If you are already using other tools, you can integrate them easily with SharpSpring CRM. SharpSpring has an open API, plus thousands of integrations on Zapier and PieSync. You can connect with popular tools like Google Contacts, Outlook, Drip, QuickBooks, Salesforce, Zoho and tons more.

SharpSpring CRM offers several integrations with other CRMs and tools.
#10 Available in 10 Languages
SharpSpring CRM is available in 10 languages: English, Spanish, French, Italian, German, Dutch, Portuguese, Romanian, Turkish and Slovak. That means you don't have to struggle through in English if it's not your first language. Many of my Spanish speaking peeps will love this!
Final thoughts
I'm not going to hold you up here, because time is money and you need to spend that valuable time doing.
So I'll just leave the link to sign up for your FREE SharpSpring CRM account, and you can thank me later for introducing you to this awesome CRM with extra marketing tools.
I accept flowers, coffee and the occasional bottle of wine.