The holidays are over and I am preparing for my first trade shows of the year.
I have gotten really good at packing a suitcase, jumping on a plane and preparing for non-stop meetings and connections in the hopes of growing my business.
Trade shows are a big investment, whether you are speaking, sponsoring or attending.
I also know how pricey they can be if you are a solopreneur or small business. I also know that if you answer to someone for being sent on behalf of a company, they are wanting some value in spending that dinero on you.
You are spending money and time, and you should be able to come back with A LOT of prospects for your business.
The key is having a strategy in place before you even hit the show floor.
Here are my three trade show hacks that never fail to produce a great pipeline of new clients.
HACK #1: Start Connecting ASAP
There is nothing worse than having a long stretch of open time at an event where your sole purpose is to network, learn and drum up business. If you aren't doing any of those three things for a long stretch of time, then you are not capitalizing on the money spent on the event.
My goal with each event is to have as many meetings as possible. I like my calendar to be completely booked. Heck, I even book meetings for breakfast, lunch and dinner.
A well managed show will usually have an app that you can use to find other attendees and post your wants or schedule meetings. I usually start connecting with people on the app as soon as I get access.
If I don't receive an email with access, then I contact the show organizers and ask them what options they have for making connections prior to the show.
HACK #2: Use Social Media
Find the show hashtags, which are usually on their website, and start following, liking and reading up on what other attendees, speakers and sponsors are posting.
Be sure to engage with other attendees' posts and reach out to anyone who you think may be a fit for you to do business.
Once you have done that, it's time for you to start posting. I usually post once every 3-5 days per platform.
For example, on LinkedIn, I will post that I am attending the show and then what I am specifically looking for with regards to a connection.
Here is an example of a post I used with an event called Leadscon which is all about lead generation. Since I know what the show is about, I cater my post to attendees and what they are also looking for.
And ALWAYS include a call-to-action with a link or way for your prospects to reach you.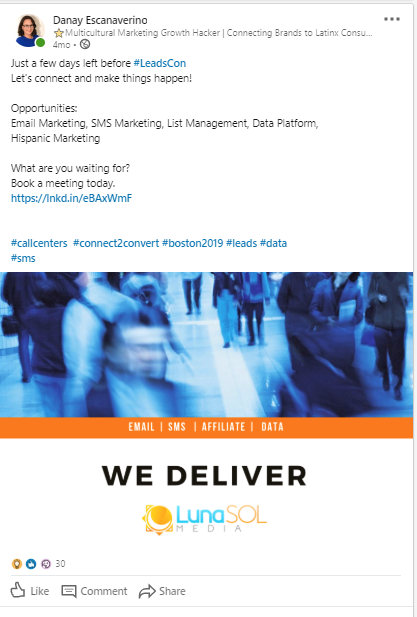 HACK #3: Get Cell Numbers
Make sure you collect the cell phone number of every person you have a meeting with. I use calendly, which is a great scheduling app that synchs with my calendars so that I have zero data entry to do.
When someone clicks on my calendly link, they are able to choose an open time slot and they HAVE to enter a cell phone number in order to complete the meeting request.
Then, in the morning, before you head out, take a selfie of yourself that shows what you are wearing.
Next, text the people you are meeting with that photo so that you are easy for them to find. It makes a huge difference.
DO NOT send them a perfectly photo-shopped photo of yourself from social media. We all know that is not what we look like 24/7. It's also easier for someone to find you by what you are wearing that very day.
That's it folks!
These tips right here should help you to focus on that ROI and get your investment back, and then some!