This is a sponsored conversation written by me on behalf of CLEAN & CLEAR and #WeAllGrow Latina Network. The opinions and text are all mine.
Our crazy summer schedule is about to come to an end soon.
The morning traffic will once again be speckled with buses and busy parents chauffeuring their kids to school.
El Teenybopper will soon say goodbye to endless hours of video games and running outside with his friends until the sun comes down.
He will say "Hello" to his classical academy, lots of work and challenging his mind.
So we've decided to have one more summer camping trip.
As for back to school prepping, all of our prepping and shopping was done early.
There was just one thing left.
His skincare routine.
I know what it was like being a teen and obsessing over my skin.
Just one blemish and your day was ruined.
Between the hormones and the crazy "world is going to end" overly dramatic emotions, I knew I needed to be prepared.
Now, I'm all about teaching my kids about power. When you feel powerful, you look at life through a different lens.
I am talking about the kind of power that you feel when taking control of a situation and doing everything you can to achieve the outcome you desire.
For his skin, that means using the right products and establishing a skincare routine that will equip him with the best chances for healthy skin.
This will, in turn, make it easier for him to avoid the stress of blemishes and feeling self conscious.
So, I decided to teach him about good skincare while we were on our camping trip. What better time?
I give you, our 3-Step teenybopper skincare routine with CLEAN & CLEAR®: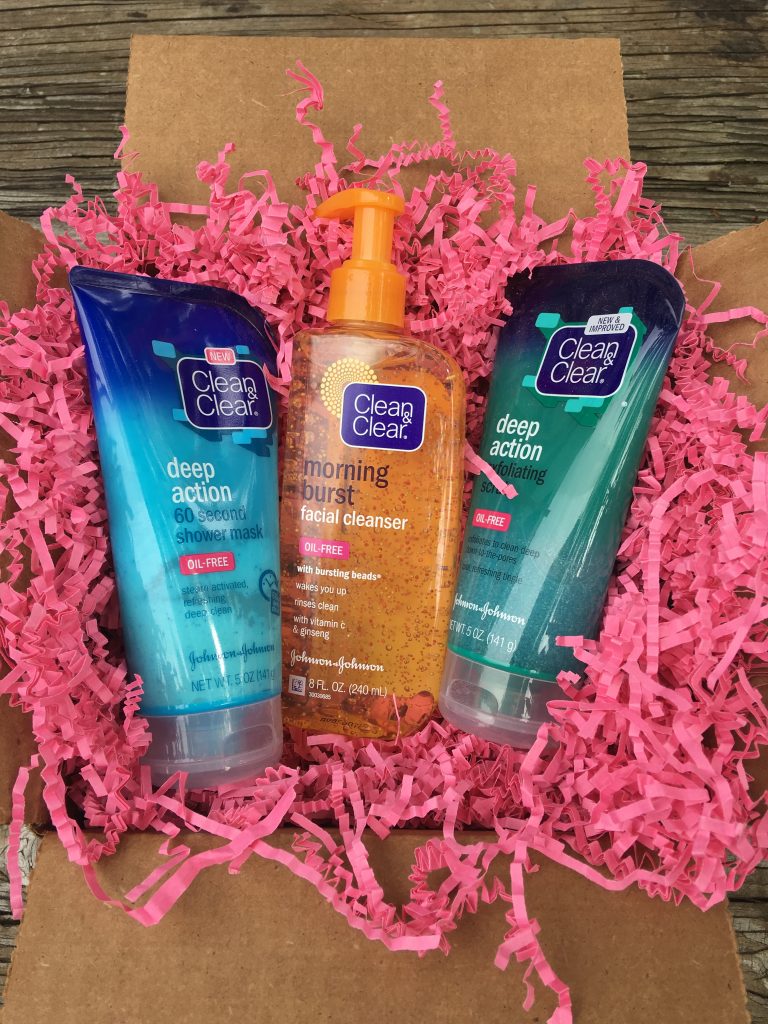 Teenybopper Morning Skincare Routine Step One
His daily routine will start with CLEAN & CLEAR® MORNING BURST® Facial Cleanser which is a gel cleanser formulated with effective cleansers and vitamin-enriched BURSTING BEADS® to awaken skin.  It is available at retails stores nationwide for $5.49.
His routine will start with clean hands that he will use to splash water on his face.
Grab the CLEAN & CLEAR® MORNING BURST® Facial Cleanser.
Squeeze a small amount of cleanser onto his wet palms.
Work into a lather.
Place the foamy cleanser onto his face and gently swirl it around.
Feel the awesomeness of the BURSTING BEADS®.
Rinse face thoroughly and pat dry with a towel.
Throw one of those handsome, sometimes goofy teenybopper grins at yourself.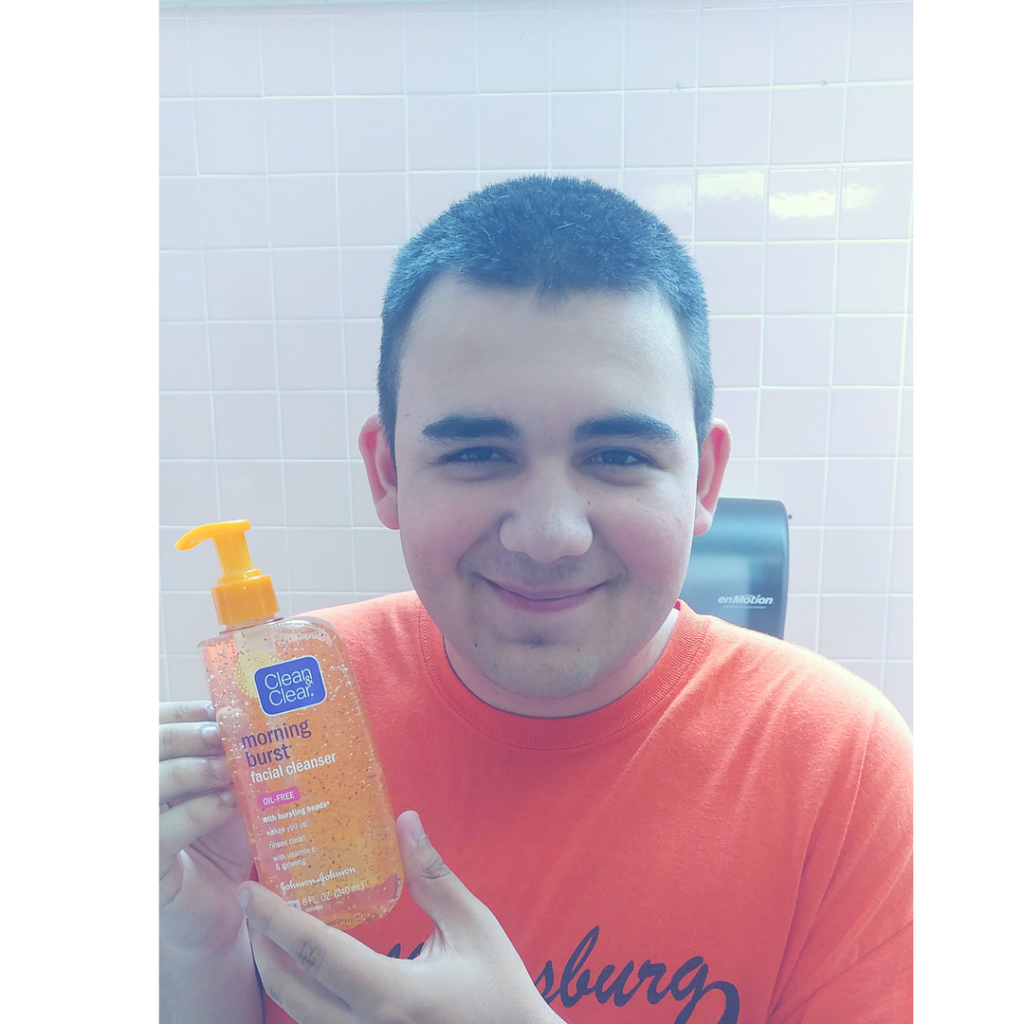 Teenybopper Morning Skincare Routine Step Two (2-3 times per week)
He will be using CLEAN & CLEAR® Deep Action 60 Second Shower Face Mask which is designed to work with the steam of your shower to deeply, but gently exfoliate away traces of dirt, oil and dead skin that can clog pores.  This is available for $6.89.
Apply the mask evenly on your entire face.
Let the mask sit on your face for 60 seconds. You can continue your other shower tasks while you wait.
After the 60 seconds is up, gently massage your face as you rinse the mask off completely.
If any gets in your eyes, just rinse. No worries.
Enjoy the feeling of taking control over your skincare.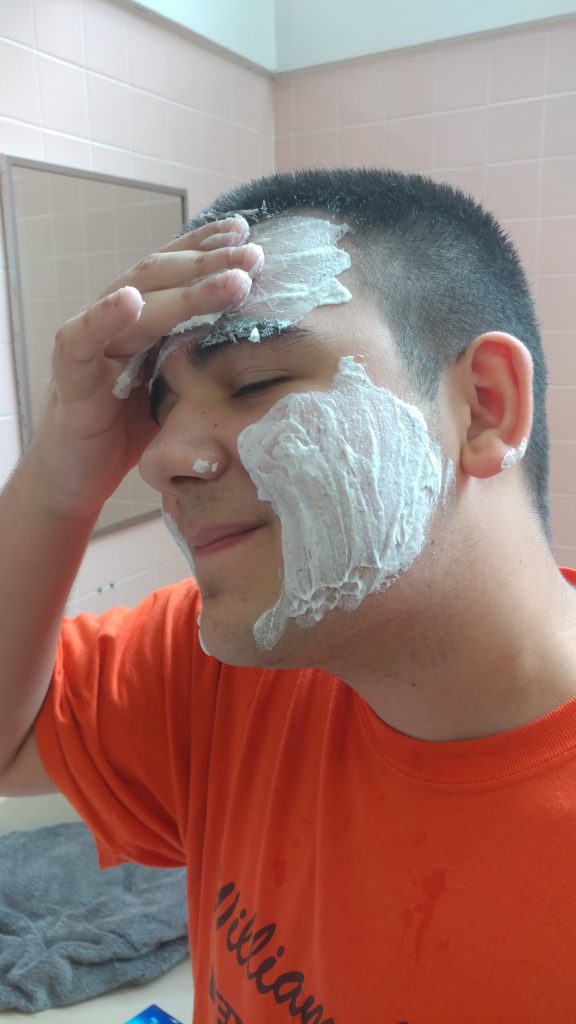 Teenybopper Morning Skincare Routine Step Three (daily or 2-3 times per week)
Step three will consist of CLEAN & CLEAR® Deep Action Exfoliating Scrub which cleanses deep down into pores, working to dissolve dirt, oil and impurities while exfoliating dead skin cells.  While he can use this daily as well, this teenybopper will start with 2 to 3 times per week. This is available for $4.99.
Wet face.
Gently massage all over your face.
Avoid your eyes. Yes I HAVE to tell him this, because he is a teenager, after all.
Enjoy the tingly, cool feeling of the menthol working its magic.
Rinse thoroughly and pat dry.
Take a good look at that healthy, clean face and give yourself a wink.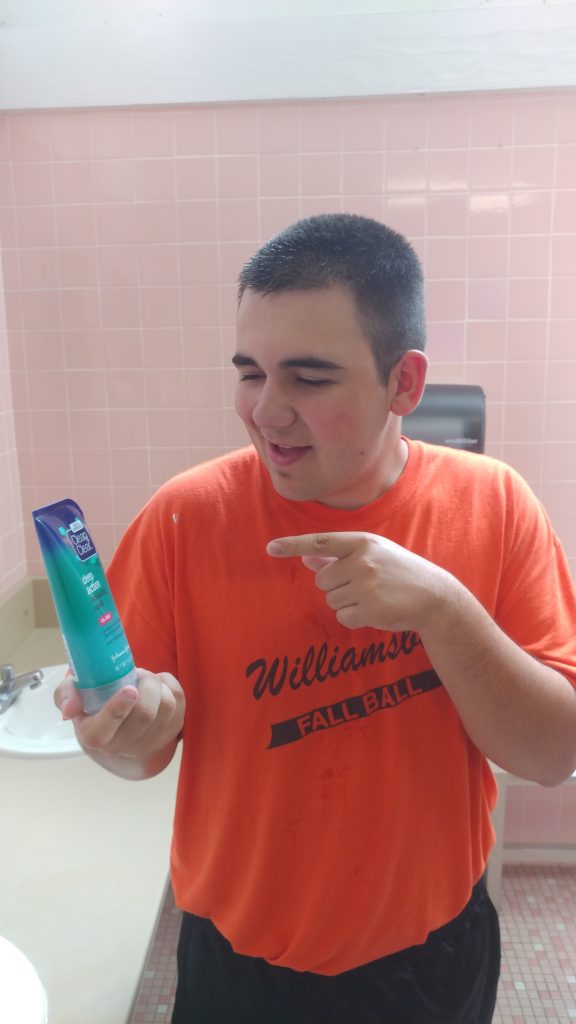 Next lesson: learn how to rinse your face without soaking your shirt. Seriously.
Mami's work is done for the day.
Another life lesson is on the books.
Now it's back to learning how to build a campfire.
One more thing. I'm glad I'm documenting just how awesome I am so that he can thoroughly thank me when he gets older.