This post is a sponsored collaboration between Kimpton Donovan Hotel and Danay.net. All opinions expressed are my own.
It's the little touches of hospitality and personality that always get me.
I travel quite a bit for business, so I get to see just where a hotel makes an effort to distinguish themselves.
The Kimpton Donovan Hotel in Washington D. C. gets it right with its swanky contemporary style and welcoming vibe.
Complimentary Wine Hour
When I arrived at 5:15 PM at the hotel for my first Latina Meetup in D.C. I was delighted to see the guests lounging in the lobby with glasses of wine in their hands. This is thanks to the hosted complimentary wine hour from 5 to 6 PM, 7 days per week.
I left my husband and son to check-in and proceeded to join the fun. A few minutes later, after a dropping off Mr. Teenybopper in the room, hubby and I returned to the lobby to enjoy the wine hour.
Not only is this a great little luxury for the guests, but it's also a wonderful way to meet others. And we LOVE meeting new people.
The Room
We stayed in the Double Double Executive.
The room had a fun, contemporary style that departs from the IMHO boring federal type decor of many area hotels.
The floor-to-ceiling windows provided a perfect view of the city where I was able to enjoy my morning worship of the sunrise.
It's one of the perks of being an early riser.
The room included a well stocked mini bar, a nice over-sized oak table to work on, one of the coolest spiral walk-in showers I've ever used and a massive LCD flat-screen TV which the teenybopper made good use of.
The spacious bathroom was well stocked with towels and luxury Atelier Bloem bath amenities.
A Keurig with a selection of coffee was another perfect addition. It's as if someone asked me for my favorite staples when setting up the room.
It's worth noting that complimentary bath robes, an umbrella and a yoga mat are included in every room. Just check the closet.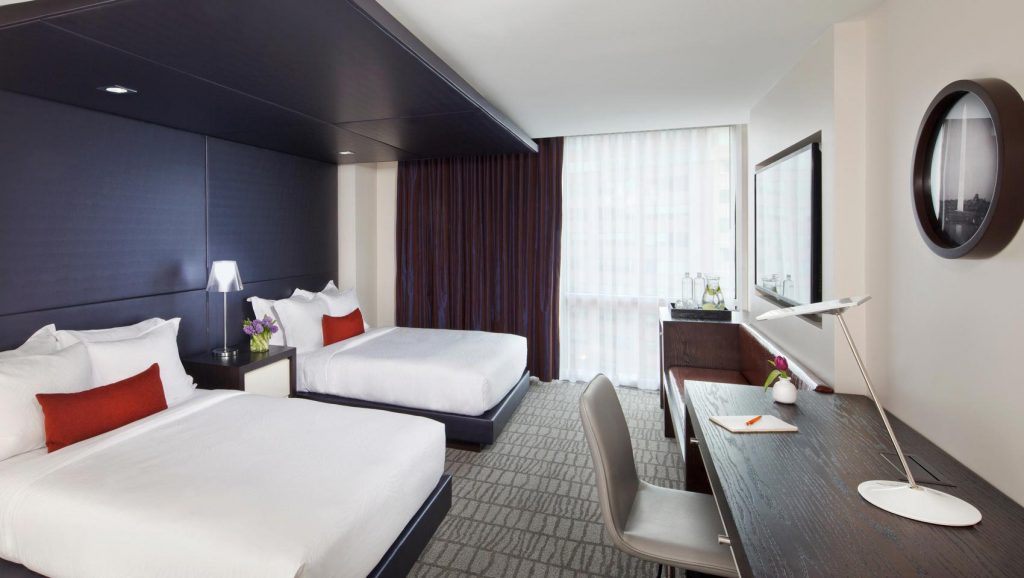 Dining
I had a lot of planning and catching up to do to make sure my event went off without a hitch. It was going to be a room service kind of night.
I jumped in the shower, slipped into the complimentary robe and ordered from Zentan, the in-house restaurant.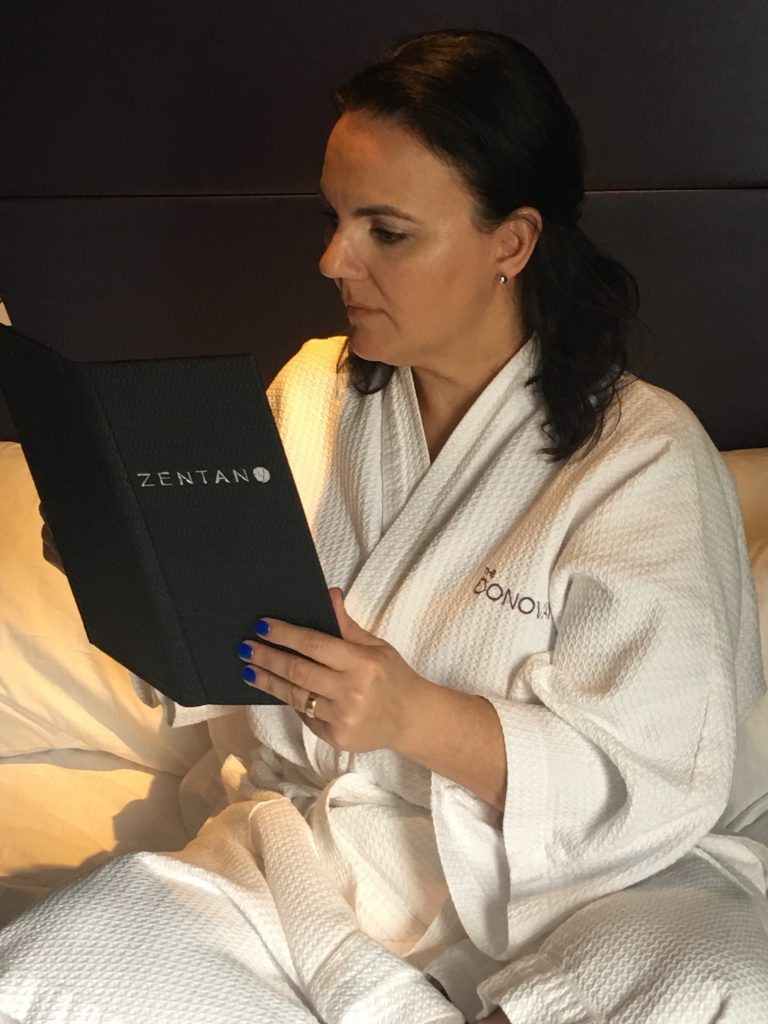 I'm going to need to set aside some time to thoroughly enjoy more of their mouthwatering Asian fusion  yumminess during my next visit. It really is a destination all on its own with its communal table and custom-built robata grill.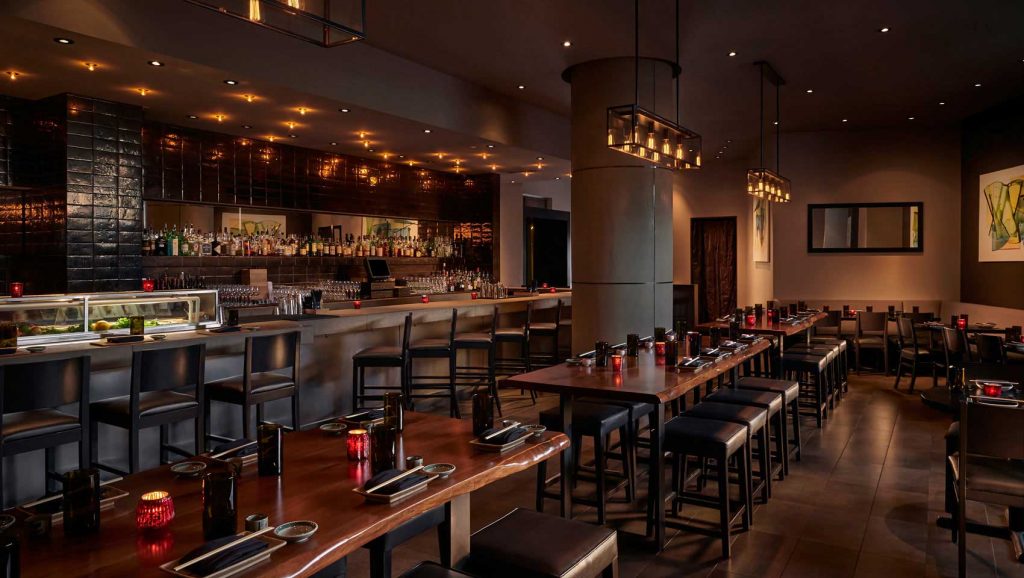 Of course, I wasn't the only one who got to enjoy the luxe robes.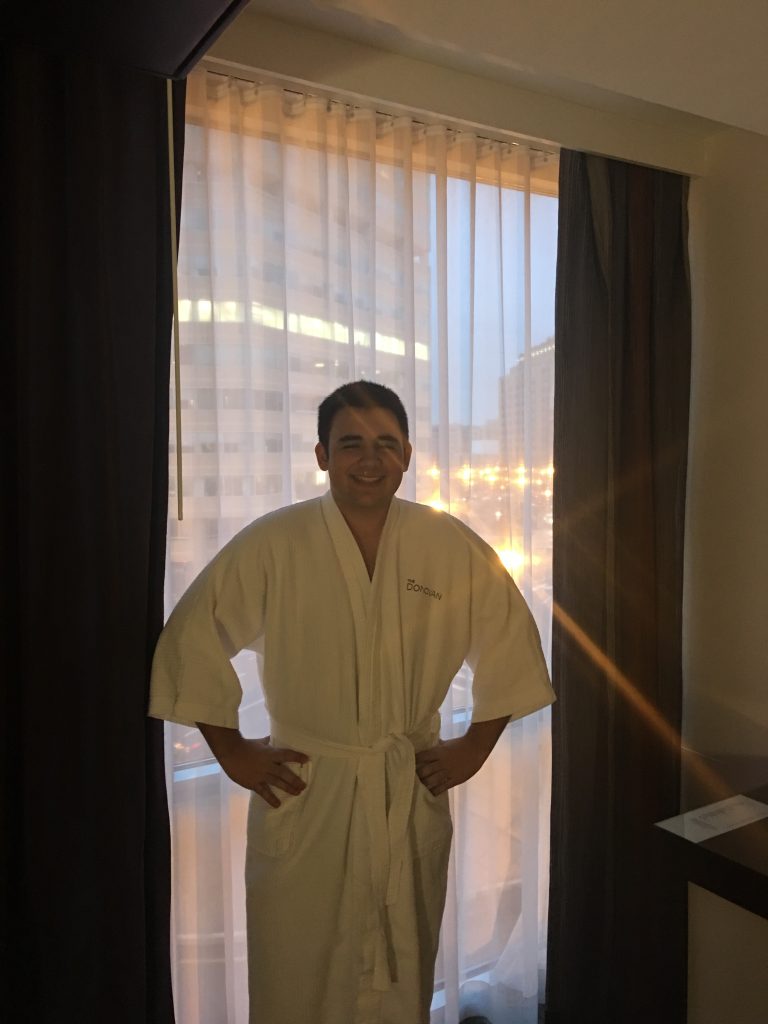 After recharging the batteries with some amazing food, I was able to hammer out some last minute work before calling it a night.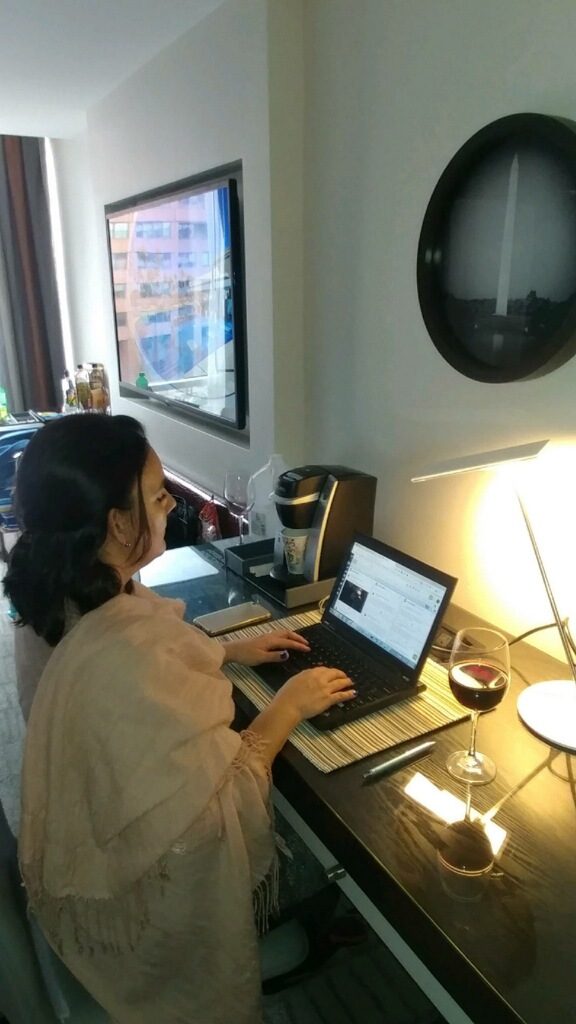 Location
The Kimpton Donovan is perfectly situated just off Thomas Circle in Downtown D.C. For those of us who prefer walking to the White House or the National Mall, the location is perfect.
Most of the popular museums are within a mile walking distance.
It's basically close to EVERYTHING!
There was very little time to do any sightseeing on this trip, but my husband had been wanting to go t the Smithsonian National Air & Space Museum since he was a little kid.
Even though the weather was grey and miserable, we grabbed our complimentary umbrella and headed out for a quick visit.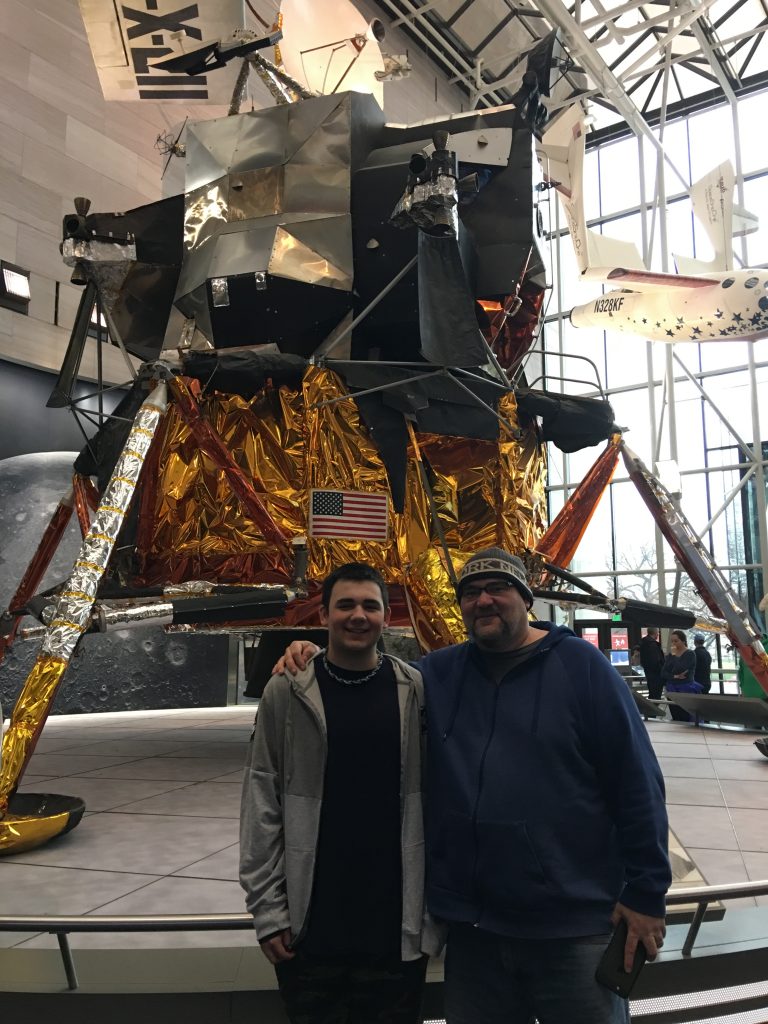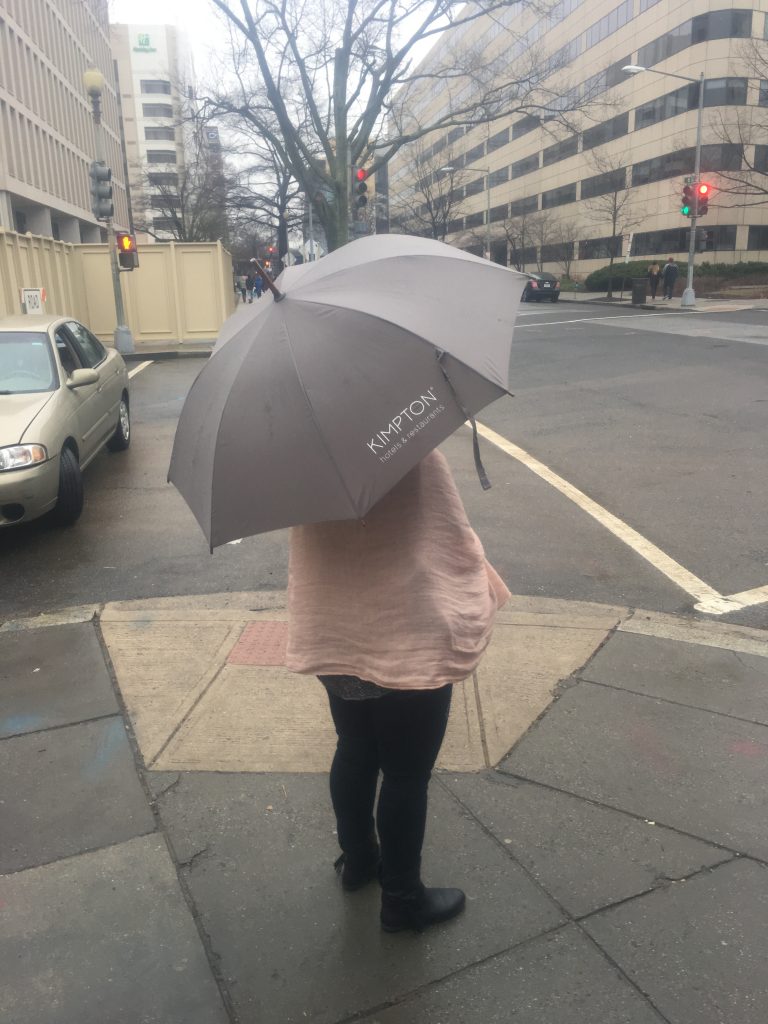 Service
Another thing I am keenly aware of when I stay in a hotel is the level of customer service. You can tell a lot about a hotel's culture from the staff's demeanor.
Every interaction with the staff, whether it was the valet, the front desk or housekeeping was perfection.
I'm usually a very low maintenance guest, but this time I knew I would be the opposite. I had a lot going on with the planning and finalizing for the event.
There were about 13 boxes that arrived during my stay. Every time a shipment came in I received a call and the box was promptly brought to my room.
Knowing that I was in very gracious and capable hands with my stay was an absolute joy . It allowed me to focus on ensuring a fabulous event while the fam enjoyed our stay.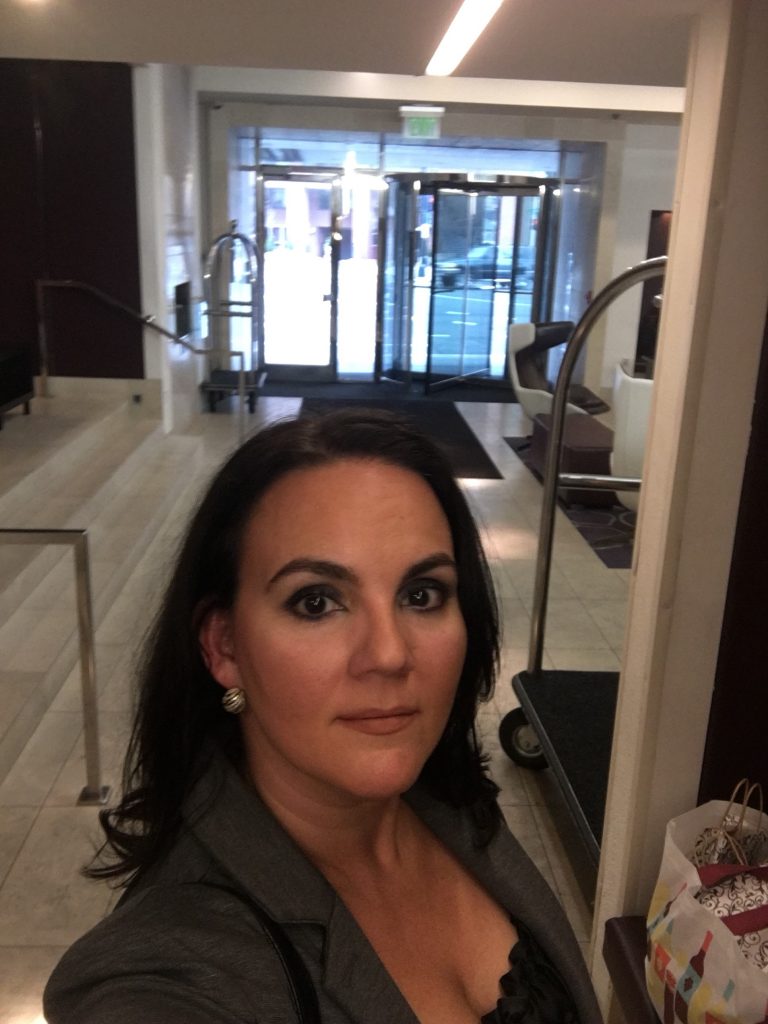 Gym
While I am not a fan of working out indoors and prefer running outside, I did appreciate the 24-hour gym. When the weather is cold and rainy and you want to avoid getting sick, hitting the treadmill is a plus.
Spa
Spa services including massages, body treatments, and facials can all be reserved and enjoyed in the  privacy of your room.
If you are an IHG® Rewards Club member, you get a $30 credit toward your in-room spa service.
If you're not a member but would like to sign up, click here.
Business Services
As a business traveler, it's important for me that a hotel has business-friendly amenities and services. The Kimpton Donovan did not disappoint.
There are two rooms for meetings which can be combined for a total of 1,325 square feet of event space that can accommodate up to 80 guests. The rooftop is also available with room for up to 100 guests. I'll be looking at hosting one of my Latina Meetup events on the rooftop later this year.
Here are some of the business traveler -friendly services that I really dig.
24-hour business center
Complimentary WiFi for IGH Rewards members
Complimentary morning coffee and tea service
Concierge, valet, and laundry services, with complimentary overnight shoeshine upon request
On-site event planning professionals
Wi-Fi available in all meeting rooms and public areas
Catering by Zentan
Pets!
Another thing I loved about the Donovan was running into some of the furry guests. The hotel is very pet friendly and the only requirement is filling out a pet form during registration.
I will certainly be back with our boxer during my next stay. He'd love to make some friends.
DNV Rooftop Lounge
I was bummed out that the gorgeous DNV Rooftop Lounge was closed for the season.  It is open from Memorial Day through Labor Day. I've heard it's a must-see with stunning views of D.C.
Hotel guests can enjoy snacks and drinks from Zentan during the day. After 5PM, it transforms into a  trendy evening hot spot.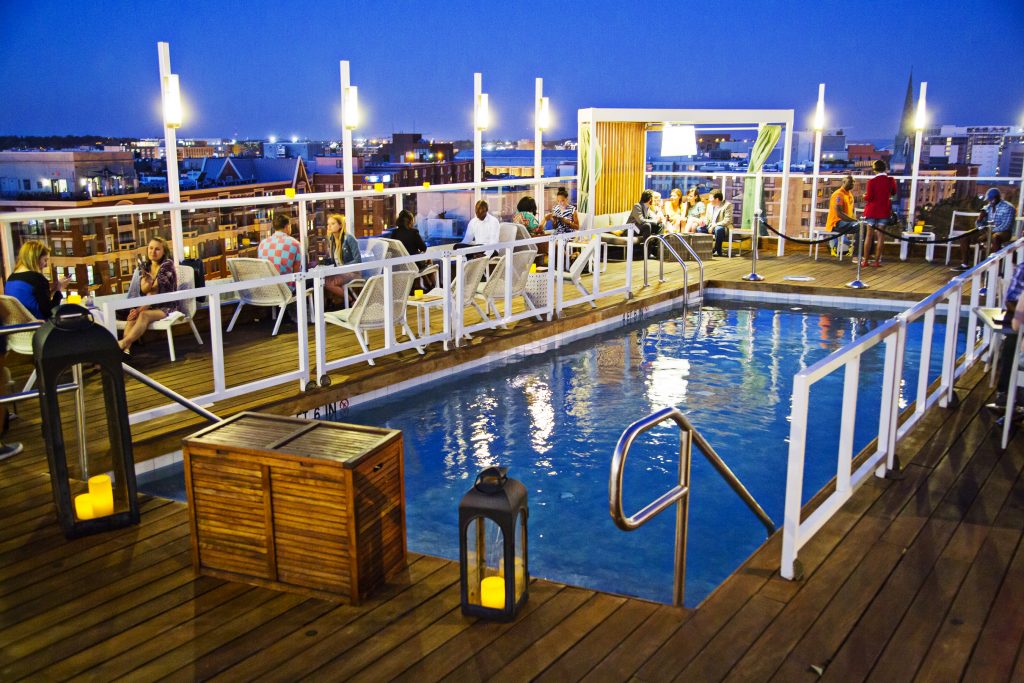 Additional Amenities
Check out some of the other fab amenities you'll get during your stay.
Custom-designed Kimpton PUBLIC bikes for riding around town
Valet parking for $49 + tax per night (hybrid vehicles are only $24)
Car charging stations for Teslas and electric cars
Danay's Take
Since I travel a lot with my family, I'm always looking for hotels that have the perfect mix of family-friendly and business amenities.  The Kimpton Donovan hotel really exceeded my expectations on the business end.
As for family, I can say that my teen son was impressed with the room, huge TV, amenities and luxury. Points scored by mom for the coolness factor!
I really wish I had more time to visit Zentan Restaurant and enjoy the spa services, but I'll just have to save that for my next visit.
If you're hitting D.C., you should definitely treat yourself to an upscale boutique property with a great location, a plethora of amenities and some of the area's best dining.
Check them out and book your room today.
Don't be surprised if we bump into each other during wine hour!
Let's Hear From You!
What are your must-haves at a hotel when traveling for business or pleasure?