Once in a while, in life you have these Ah Ha moments where you need to stop and just take something in for a bit.
I had one of these last week on a gorgeous spring day at the Virginia Living Museum in Newport News, Virginia. It's less than an hour's drive from either Williamsburg or Virginia Beach.
Stay with me here and I'll get to that Ah Ha moment.
But first, let me tell you about all the cool stuff the museum has to offer.
Boardwalk Trail
The cool thing about this museum is that you are not limited to indoor exhibits. We walked along an outdoor trail which is really more like a preserve meets a zoo. It's a 3/4 mile long boardwalk that features Virginia's wetlands and the animals that inhabit them. It's long enough to get a lot in but short enough that it doesn't become "theme park unbearable" with little ones.  We went with friends who have small children, and it really was quite enjoyable for them.
Our welcome on the trail was a very distinctive odor that was quite unpleasant. I later learned that it was a skunk. Now I know what that smell is and I hope I never have to pull it up from my memory banks again.
The museum features over 250 species all found in Virginia. We got to see red wolves which are the most endangered animal in North America. We also saw two gorgeous bald eagles, deer, bobcats and quite a few other wild animals.
The kids all really dug the beaver display. I liked it too until the moment he squatted into a weird position, lifted his tail and pooped right in front of me. That was special.
Dinosaur Discovery Trail
Towards the middle of the boardwalk we encountered the Dinosaur Discovery Trail where we saw replicas of some of the dinosaurs that inhabited the earth millions of years ago from the Jurassic and Cretaceous eras. We saw the Velociraptor, Tyrannosaurus rex and Stegosaurus to name a few.
The teenybopper and I had a great time reading up on all of the dinosaurs and checking out the replicas of fossils that are on display at some of our US museums.  These were housed in Discovery Huts.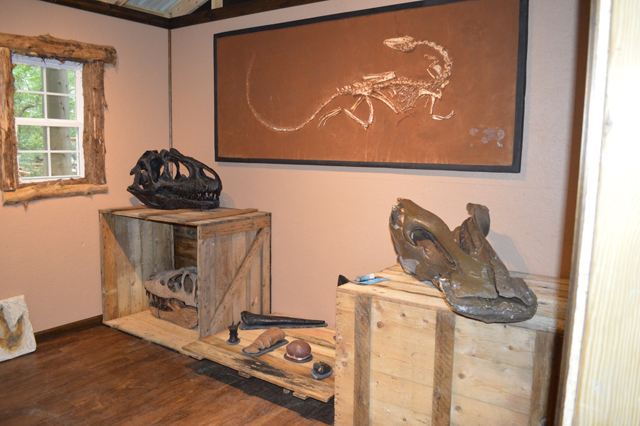 What I really liked about this exhibit was that we were able to get very close to and interact with replicas of the remains of these dinosaurs that they would not be able to get so close to in a big fancy museum. I love me some MOMA and Museum of Natural History and the like. But especially when kids are young, touching is a big part of learning.
Coastal Plain Aviary
Soon after we were done viewing the animal exhibits, we came to the Coastal Plain Aviary.  There were ducks, egrets, herons, and many more coastal birds. We actually went into the treetops over Deer Park Lake into the aviary. It was pretty darned cool.
The Green House
During our trek we happened upon house with a living green roof and solar panels. The 600 square foot house is packed with examples of materials that can be used to build  an earth-friendly home. Aside from more interactive fun like a solar fountain that the kids can manipulate, there were solar panels, passive solar heating, a solar water heater. Well you get the drift.
There were alternative wall systems, insulation, geothermal heating and cooling, salvaged lumber and so on. Let's just say this environmentally conscious mami started feeling like a total slacker in that department. On the other hand, I got some great ideas for projects!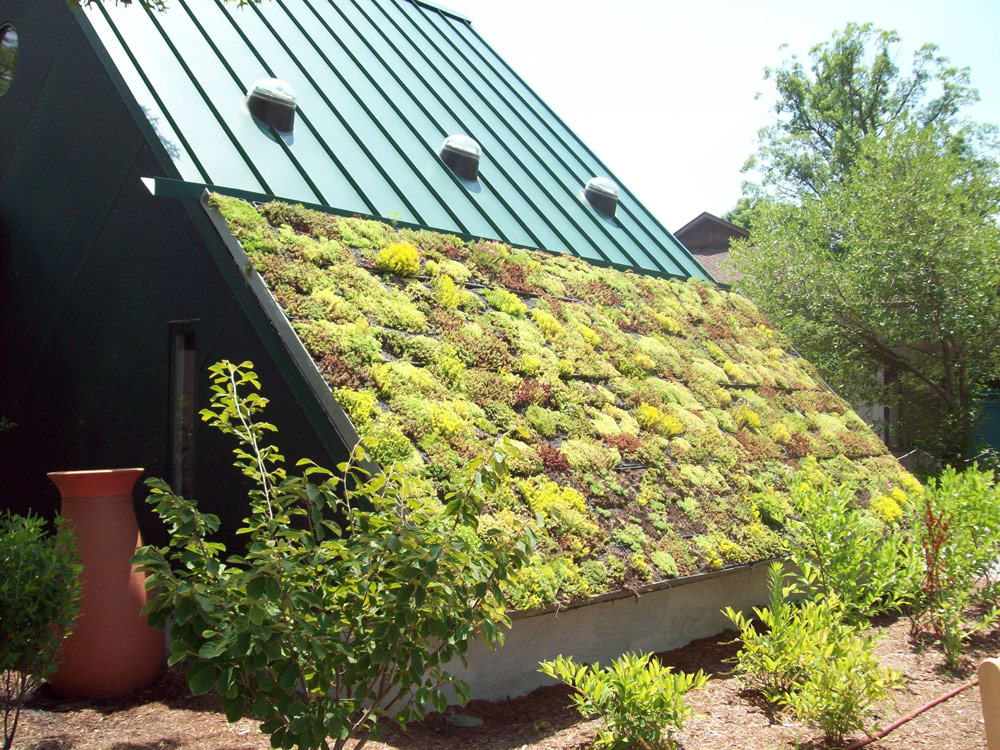 The Gardens
There were several gardens including a Virginia garden that showcased 400 years of local species including the plants that were here when settlers landed in Jamestown. There is also information about the plants that have been introduced that are invasive and pose a threat to the local species.
The kids shrieked with delight as we arrived at the Children's Garden. What was so special? There was a playground for the littles, but there was also what looked like a hobbit home. They all tried to pack into the hobbit house and the teens ended up having a hard time getting out which brought on fits of giggles from children and parents alike.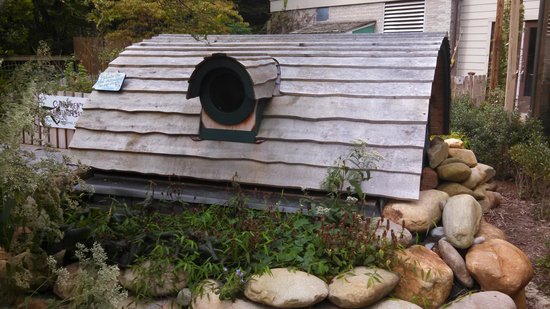 Wolf to Woof: The Story of Dogs
My favorite exhibit was the Wolf to Woof: The Story of Dogs exhibit which showcased the history of the canine.  Even the teenybopper enjoyed learning all about how wolves evolved into the docile and loving domesticated pets we enjoy today. The exhibit featured dioramas, displays and plenty of interactive stations including one where you would look into a replica of a dog's eye and see the difference between how they see and how we humans see.
Yes, it's true. Dogs only see in yellow and blue. But, they have amazing night vision and can see farther.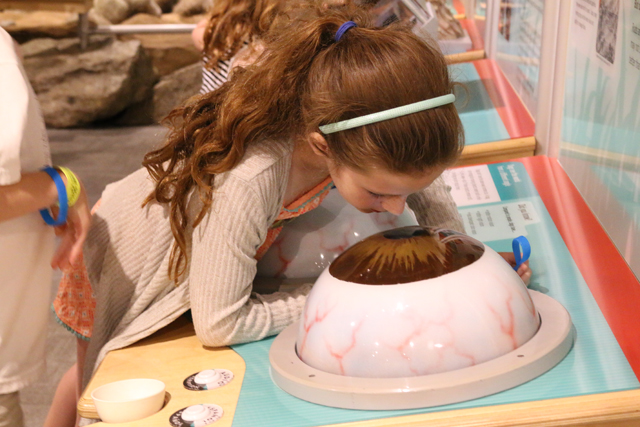 We learned so much about dogs throughout history and throughout the evolution that it was quite the information overload but this geek loves information so no issues here.
Back to that Ah Ha moment.
As I was approaching the end of the Wolf to Woof exhibit there was one display that was detailing how scientists started to find dogs buried with their owners during excavations. Based on these findings, the theory is that dogs were buried with their humans as far back as 14,000 years.
As I was standing in front of exhibit reading the text and mulling over what I was learning, Â one of the volunteers at the museum, an older gentleman came forward.
He tapped me on the shoulder and said would you like to discuss some of this? My eyes lit up and I said "yes absolutely|"
He smiled and said "Well here's a thought. Have you noticed there's not one mention of a dog in the Bible?" I paused and he paused waiting for my reaction. I didn't react as I was still mulling it over. I thought, that can't be right.
Then he said, "My wife and I have discussed it several times, we've looked all through the Bible and there's not one mention of a dog in the Bible."
That was when I thought "Ah Ha! That's so cool!"
The Internet to the Rescue
Of course my curiosity was piqued. I can't say I am the most well learned scholar when it comes to the Bible. I read it as a child in study and then again as an adult, but I'm not the type who can quote scripture off the cuff well.
So I did what any curious person in 2017 would do. I went to Google.
All the while, I was saying to myself, "Not one single shepherd had a dog?"
So after researching a bit, I did find that dogs were mentioned in about 25+ verses. There may be more, don't quote me.
All of the mentions were negative, so my assumption is that the gentleman I spoke with was referring to domesticated dogs. Â Here's a great article that breaks it down incredibly well.
So, really, my Ah Ha moment was not the revelation about domesticated dogs not being in the Bible.
It was that I learned some really cool stuff about history, heard some information I wasn't too sure about and researched it to further to educate myself.
I could certainly have taken what he told me and started to tell everyone about it, and I eventually would have run into someone who would set me straight. I also could have erroneously let my kid think the same thing. It took five minutes for me to become less ignorant about a topic.
What are your favorite Ah Ha moments?