I decided to write this post because I couldn't tell you how many times I have had a client ready to spend marketing dollars on a Facebook or Instagram or Email campaign who didn't have a funnel. IÂ have to explain to them why I can't take their money, which is painful for me. It sucks to tell someone no, when they are ready to pay you. The success-hungry immigrant in me wants to smack myself.
Depending on the client, many times we can educate them about what they need and it turns into new business anyway, as we then close a deal on both building out a funnel and traffic generation. Those are happy meetings for yours truly. And sometimes, no matter how much I explain it and give great examples of why they need it, it just doesn't sink in and I have to wave goodbye to the opportunity.
On some occasions the client will be back months later after another agency gladly took their money and couldn't deliver what they really wanted which is always SALES. Then we get the joys of dealing with someone who is already wary of digital agencies.
So if you are thinking of "Boosting" a Facebook post or launching a new email campaign, please do yourself a favor and keep reading.
What is a Marketing Funnel?
A marketing funnel is an upside-down cone or pyramid that represents the steps a potential customer may take to eventually become a sale.
The funnel is wider at the top where there is awareness and interest and gets narrower towards the bottom, when you are closer to the sale being closed.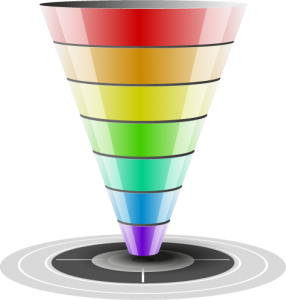 The Funnel Confusion
Just do a Google search and you will find a ridiculous amount of funnel graphics. That's because of two things.
There are different types of funnels
Any funnel can be customized to suit your needs as a marketer.
Each funnel is different and applies to different scenarios and goals. For example, there is a sales funnel, a marketing funnel, a conversion funnel and so on. Then within each of these, there are more granular funnels like the webinar funnel or the trial upgrade funnel. For the purpose of this post, I am assuming that you just want to know what a funnel is and how it will help you make more sales online.
Define Your Goal
Before you can build out a good funnel, you need to establish what you want from people who view your ads. I know a lot of the gurus talk about subscribers, and they are correct. But let's not use a cookie-cutter approach for every single business. I see so many "gurus" selling the same template or approach to everyone, and that just doesn't work.
If you are a car dealership, you want foot traffic. You want people to call your sales team. You don't need to give away a 12 day course. You could, but the car sales cycle is different from a digital product.
The sales happen in person, so your ultimate goal is to get someone to come in. Your immediate goal with a campaign is to get someone on the phone, so you need to create a landing page with your phone number for inbound calls and a lead capture form for them to send you their details to receive a call. You should be testing different landing pages with variations on your headlines and CTA including web versus mobile. For the purpose of this post we will keep things simple.
Your funnel will look something like this:
Step 1: Traffic Generation (Facebook ad, Instagram ad, Email Campaign, etc). This is also known as the "Awareness" stage in the funnel.
Step 2: Landing page with Toll Free number and CTA (Call-to-action) to request a free quote
This is where you already have the visitor's attention, so give them a good reason to contact you such as asking a question about a problem your visitor may have. For example, "Want to do ABC without having to pay XYZ? Give them a REASON to want you to contact them.

Step 2A: If Visitor Calls, then sales person receives call and asks to take down the prospect's contact information for follow-up
Step2B: If Visitor completes form, ask to opt them into your newsletter. Sales person receives contact details and immediately calls the prospect.

Step 3: Follow up email sequence based on user's position in your funnel.

If User did not come in to store, email them offering a special deal or incentive to come in.
If User came into the store but did not convert (make a purchase), call or email them with a new offer or find out what they need from you to get the sale. Maybe they need a different interest rate or a competitor has a better price. Find out why the sale wasn't made and offer to fix it and get the sale.

Step 4: Conversion. If you made the sale, make sure to follow up with them and "nurture" this customer. Touch base monthly with dealership news. Offer them a referral bonus if they refer someone to you. You should basically spoil them to the point where they love you and tell their friends about you, because then they are helping you jump back into "Step 1" which is awareness. Word of mouth is a great traffic generator.
Now let's talk about some of the main funnel elements.
Landing Page
Your landing page does not have to be uber pretty or fancy. Your prospects care about one thing, what you can do for them. As I stated before, asking a question is a great way to focus on them and their pain points. Here are a few tactics to consider when you want to capture a lead, which is what your landing page is all about.
Add a lead magnet. Generally a freebie that you are giving away in exchange for someone's email. A lead magnet can be a free eBook, checklist or anything else that you can give away for free.
A lead magnet can even be a quiz where you email the results to the user, enabling you to capture their email and opt them in to your list.Here's an example of a quiz lead magnet for home improvement.
Use white space. Keep the message front and center and don't feel like you need to throw everything on the page. People are skimmers. They will not read it all. No one has any time for that.
Add social sharing buttons. Not only does this help with bringing in more traffic (top of the funnel), but it also helps you establish authority. The more shares that are seen on your page, the more cool factor you have going.
Use testimonials. Nothing sells better than happy customers, so kick up your testimonials and showcase your peeps.
Targeted Follow-Up Sequence
Following up is essential. That's why a good doctor's office gives you a follow-up call to remind you about your appointment.
It takes about 7 contacts with a lead before they will turn into a sale. People don't like parting with their hard earned cash, so you need to earn their trust first. You need to cultivate a relationship, let them get to know you. So once you capture their info, do something about it and send them emails to warm them up.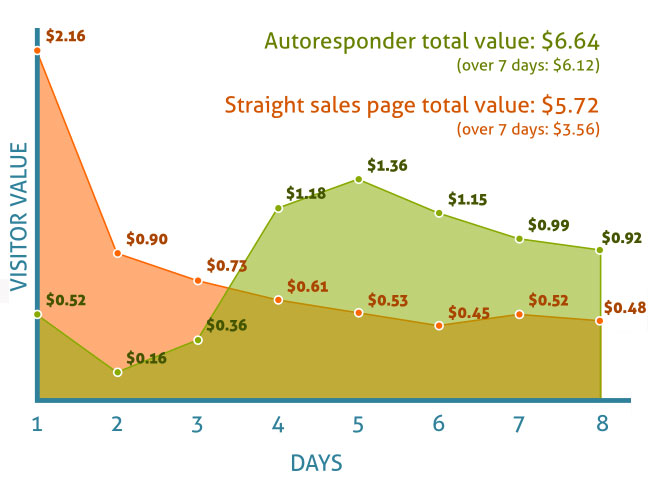 Post Sale
One word. Amazon. It is 2017 and I still am not getting contacted by over 80% of the companies I buy from on Amazon. This lady here is a power user of Amazon Prime thanks to my constant travels. Not a week goes by that I don't order something for either myself, my family or a gift for someone. I have even used it for gifts to clients. You simply cannot beat it.
However, of all the people I have bought from, only about 20% are following up with me to ask me how I liked their products and offer to send me specials, deals or just a monthly newsletter. I mean, I already converted for you. Hit me up sellers!
Here is a letter from a seller who gets it.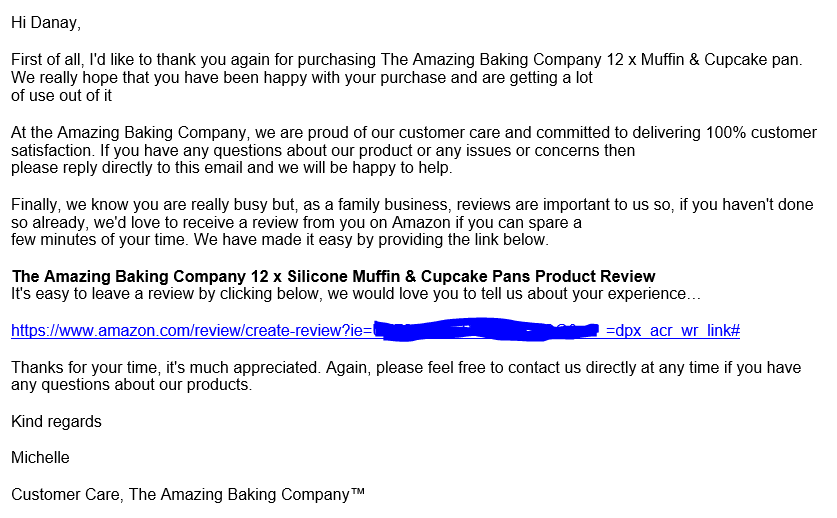 Your current customers can offer you a wealth of traffic assistance. They can be recurring content creators. How many people do you think would love to post about their great experience? They generally won't without a bit of encouragement, so encourage them. Send them gifts, birthday cards, whatever! Keep them happy and spoiled and they will be your brand ambassadors.