This post may have been compensated in goods, services, or monetarily, however all opinions are 100% my own. 
We have every single device you can think of in our home.
We're just techie people and love the convenience and coolness of it.
I'm not much of a jewelry gal, but the tech stuff is where it's at for me.
One of my favorite devices is the Google Chromecast.
Here are some of the reasons I'm a huge fan.
It Makes Teaching EASY
I can easily pull up video of one of my favorite math teaching YouTubers and  we watch it together on our big TV in the living room. It's so easy to just cast those videos and review them.
You Eyes Will Thank You
I'll let you in on another secret. Having a teen means watching lots of memes and silly videos that he likes to share. I get a headache when I have to use my phone too much. Call it being middle-aged. I don't care. But it's a lot more pleasant for me to see something on a 60 inch screen.
Instant Presentations
I can't tell you how many times I've been invited to give a presentation somewhere and there are tech issues with projecting my PowerPoint slides. Now I just bring this little gadget with me everywhere and voila! All it takes is a screen with an HDMI connection and you're all set.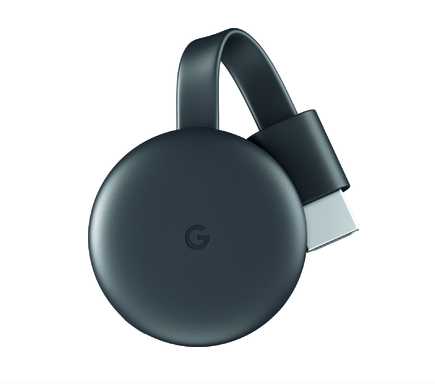 Here is the down-low on all the features you'll love:
All together now
Watch movies, shows, live TV, YouTube, and photos streaming on your TV from all your family's devices.¹
Stream from your phone to TV
Plug Chromecast into the HDMI port on your TV and to power and stream your favorite entertainment right from your phone with just a tap. Watch shows, listen to playlists, and more. And while streaming, you can still use your phone as you normally do.
Works with the streaming apps you know and love
Enjoy TV shows, movies, videos, songs, games, sports and more from over 2000 apps like Netflix, YouTube, YouTube TV, and HBO NOW. Find more at g.co/chromecast/¹
Start streaming with just your voice
Just say what you want to watch from compatible apps and control your TV hands-free, with Chromecast and Google Home working seamlessly together.²
"Ok Google, play Stranger Things from Netflix on my living room TV." ¹
Upgrade your TV for less
Expand your home entertainment without buying a new TV. It's so affordable you can get one for every TV in the house.
High-speed wireless connectivity
Built-in 802.11ac Wi-Fi connects to the Internet through your wireless home network (wireless router required and sold separately).
Compatible with your existing HDTV
Easily connects to high-definition televisions with HDMI connectivity.
¹ Subscriptions are required to view some content.
² Google Home, Chromecast, and compatible content required to cast to a TV using Google Home.
Web-based services and content require high-speed Internet service. Some services may require a subscription.
Where to find them
The Google Chromecast is available at Best Buy. Click here to get yours today.
Come back and let me know how much you love it!