This post was sponsored by GOJO, the makers of PURELL® Multi Surface Disinfectant, as part of an Influencer Activation for Influence Central and all opinions expressed in my post are my own.
I've just discovered PURELL® Multi Surface Disinfectant and I'm using it at my son's homeschool co-op.
If you've been around here long enough, you know that I homeschool my youngest at a co-op.
If you didn't know, you can learn about it in my Road to Homeschooling in a Co-Op article.
A co-op is a great way to make sure your kid still gets the school experience. That means there are a lot of other kids.
We also have a ton of events, like our recent pajama day and hot chocolate station right before winter break.
The kids had a blast, but the mess was epic. After all, we basically sugared up the kids and let them wear their PJs. It's a recipe for some chocolaty messes.
But it was worth it.
Everything about the co-op is wonderful, but we always have to be conscious of keeping things disinfected and clean.
Where there are kids, there are germs. It's like a human Petri dish.
We rely heavily on volunteers and we have a great group of parents and kids that help out with cleaning in the mornings and after school is over in the afternoons.
It's really an excellent opportunity for parents to teach their kids to volunteer and be responsible for their community.
Since the school rents out the classrooms in a church, we strive to make sure that we keep the place organized and disinfected.
The teenybopper comes to school early with me and helps set up classrooms and disinfect and clean tables and other surfaces before the day starts.
We are now loving using the PURELL® Multi Surface Disinfectant to make sure we disinfect and clean all of our surfaces.
So BYE BYE to the germs and chocolaty goo!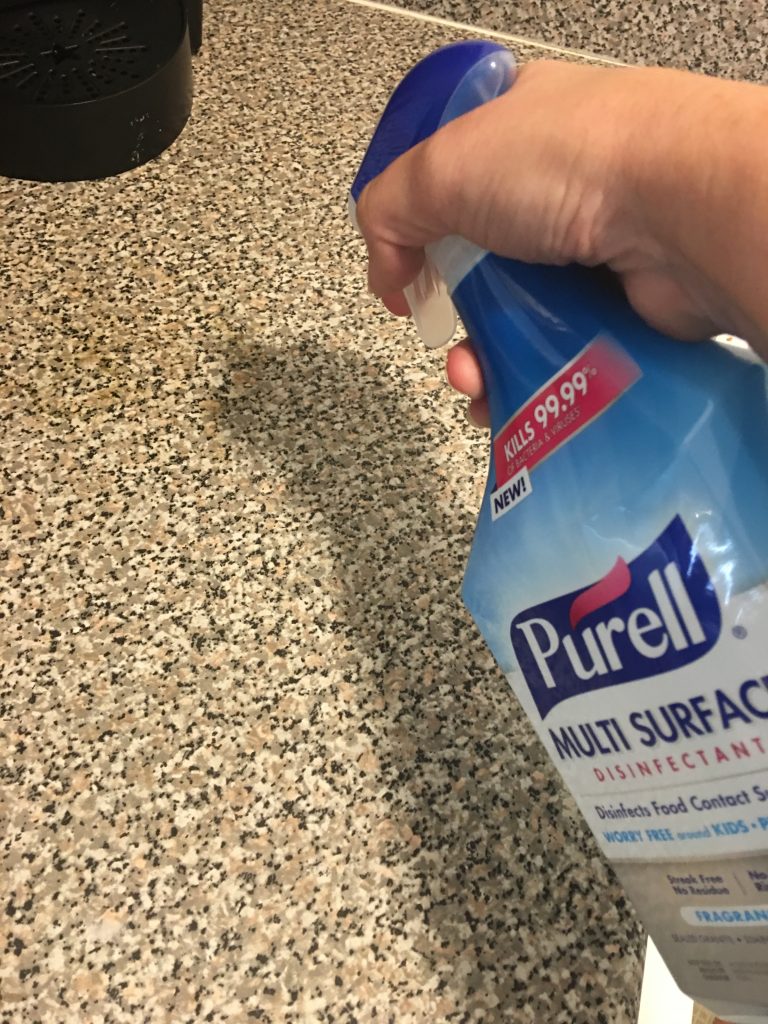 I've been a PURELL® Hand Sanitizer customer for years. I carry it in my purse and use it EVERYWHERE. Now that the PURELL® brand has a new, revolutionary surface spray that's unlike anything else on the market today, I was excited to test it out. I ordered it on Walmart.com and had it delivered right to my door. It was super easy and arrived just in time for clean-up at the Pajama Day and the potluck the following week.
It's also available online at Amazon.com, Jet.com and Walmart.com as well as in store at H-E-B and Publix. It will soon be available in store at Shop Rite and Wakefern Food Corporation.
Here are some great reasons to try PURELL® Multi Surface Disinfectant:
Knowing that it quickly kills of germs with absolutely no harsh chemicals is a huge plus. Remember, we have kids on these surfaces at all times, so that's a big plus for this Mami. At home I am using it worry-free as well knowing I have a dog who gets into everything.
It's approved for food prep surfaces with no water rinsing needed.
It won't stain clothes or fabric.
There are no harsh fumes, no toxic residue, no harsh chemicals and no bleach.
It has the germ killing power of bleach without the harsh chemicals.
It kills 99.99% of germs.
It can be used on both hard and soft surfaces.
Right now you can score it at Walmart.com for only $3.65, which is a $0.64 savings from the $4.29 price.
At that price, I've ordered several for the co-op and one for me at home!
Don't forget to pin it!