We are so many colors.
We are so fragmented.
We are Indigenous. We are European. We are African. We are Asian.
We are Christians, Muslims, Jews, New Age, and everything in between.
We are stay-at-home moms and CEOs.
We are maids and lawyers.
We speak a ton of languages, not always Spanish. But mostly Spanish.
And yet, when you meet another Latina, your heart quickens and your eyes light up.  The little laugh lines become more defined, and your mouth can't help but to convert into a smile.
"Another Latina!" you note.
Sometimes you awkwardly try to shake hands, but mostly, you end up giving each other a kiss on the cheek. It just feels like the right greeting.
You smell her perfume and wonder what she is wearing and whether she noticed yours.
The warmth surrounds you as you spark up a conversation.
That's the word; warmth.
The Connection
That is what connects us and makes us Latinas.
This was evident at my first Latina Meetup in Washington, DC on February 25th at the Tredici Enoteca.
I met with some amazing women who made a dreary Sunday evening in D.C. feel like a sunny day in Disney World for a five-year-old.
Click To Tweet
When I ask other Latinas what it is that they feel makes us identify as a Latina, the answer is always the warmth.
It's the PHD Candidate Clau González who has spent years in school and needs to feel the warmth and sisterhood of other strong Latinas following their passion.
It's the Spanish language blogger and former radio personality, Jenny "The Voice" Hernandez who finally got to meet up with her blogging bestie, Costa Rican born Carolina King.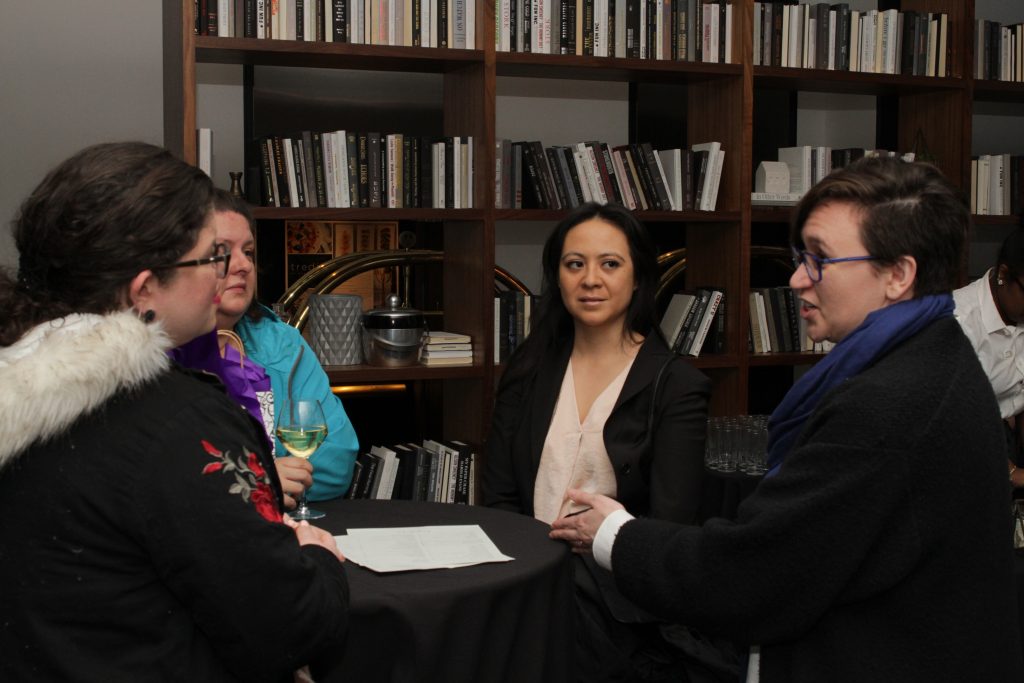 Hablas Español?
The other thing that brings us together is the common language, Spanish.
Being Latina/Hispanic connects you to others who speak it. It gives you a familiarity that exists even before you actually meet someone.
It's a familiarity that people seek out, especially when they are newly minted immigrants struggling to learn a new language.
It's what gives attorney Elsa W. Smith an edge when her clients are seeking someone who speaks like them and looks like them and isn't just the receptionist.
It's the healthcare worker, Talyza Moya who feels drawn to the patients who just need to be assured that everything is going to be okay without having to deal with a language barrier.
It's realtor, Mercedes "Meche" Martinez who is finding that being Latina/Hispanic gives her a leg up on the services she can offer people looking for a home to purchase.
The Long Goodbyes
Some cliches are based in truths, heck that's why they became a cliche. I would venture to say that the one about Latinas taking hours to say goodbye is one of those.
Long after our meetup "officially" ended, many of us in true Latina form, straggled at the Tredici Enoteca for hours enjoying the delicious cocktails and conversations.
Everywhere you looked was a mujer fabulosa enjoying great company and engrossed in conversation. We discussed everything from school, to family, to immigration, to side hustles, to LGBTQ issues and motherhood.
Familia
Another thing we all agreed on which connects us is family. Each one of us had a unique story about growing up in a home where preserving culture and customs was important.
That's why Alejandra Corrales continues her family's custom of making tortillas for Christmas even though she moved far away. In fact, I think I may have gotten an invitation. Or maybe I was just hoping for one.
Then there's my amiga, Mercedes Diane Griffin Forbes who does leadership training. She educated us about what it was like growing up in the South as an Afro-Latina with a Colombian mother.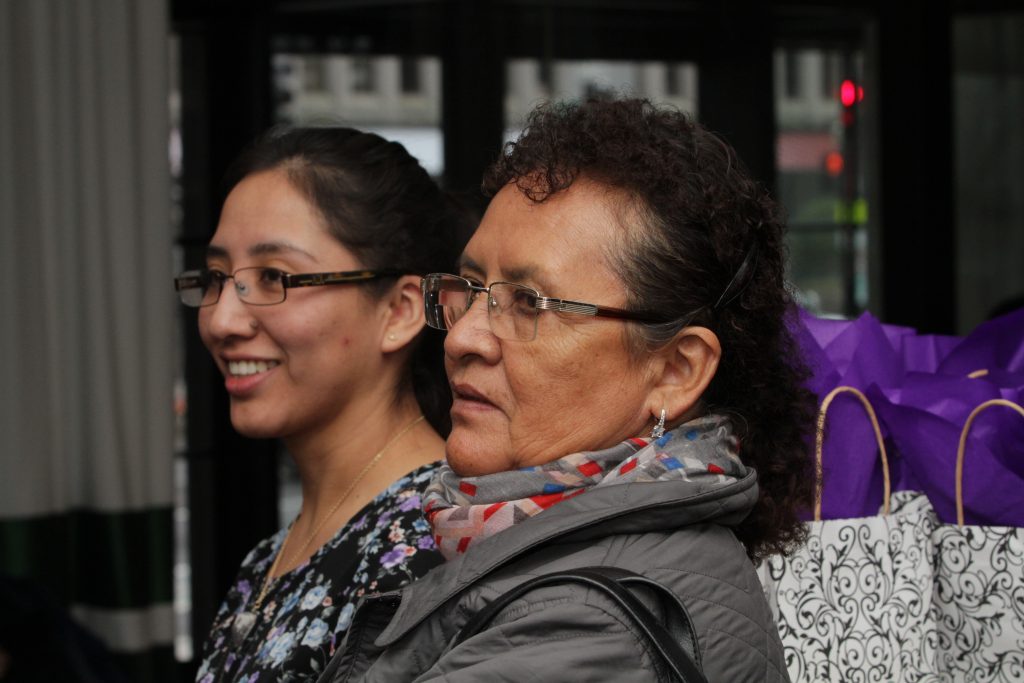 Latina Makers!
I have to tell you that this meetup was a surprise to me. I have always wanted to do this in major cities across the country, but I hadn't really intended for this one to be so large.
I had posted it on Facebook to gauge interest in the hopes that I would meet up with 5-10 ladies during my next trip to D. C.
Almost immediately there were 30 RSVPs and by the end of the first week of my posting it turned into 50. I ended up capping the RSVPs at 100 never really expecting to get close tho that number.
We reached the cap days before the event.
Once I saw there was this need for a meetup for professional Latinas, the marketer in me jumped into high gear to put together some goody bags. My hope was to feature products from Latina creators.
Check out these wonderful products from some very talented ladies.
NiDeAquíNiDeAllá Designs
Ni De Aquí Ni De Allá translates to "Neither from here nor from there."
Born in Mexico, and coming from Mexico at a very young age, Tatiana Saracho had a very Mexican upbringing and had to adjust to life in the USA.
And growing up in the United States, she had an American upbringing with a lot of  Mexican culture intertwined with both cultures.
"Sometimes the best way to describe where I am from when people ask is: 'Ni De Aquí Ni De Allá,'" she says.
Tatiana writes:
I am Mexican. I am American. I am Mexican-American. I will never forget my roots, heritage, or my culture. I embrace both cultures. Proud Latinx. Proud Mexican. Proud Mexican-American.

My mother and I started this little company because we both love to create with our hands, and have been wanting to open a little store for a while. She is the creative sewing genius, as well as the crocheter and knitter of the company. I make everything else, from upcycled pieces, to making pieces from scratch.
I challenge you to visit NiDeAquíNiDeAllá etsy shop and not find something you will fall in love with. It's impossible!
Cassava Bath and Body
Just one sniff of Havana Nights Whipped Body Butter, one of many of Cassava's Bath and Body products will transport you to the island whose memories are cherished and shared.
Created by Marianela, a New Jersey teacher who loves sharing her Cuban heritage through hand crafted products that reveal the rich culture, lush paradise, and tropical fruits of the Cuba.
Marianela uses ingredients such as natural butters and oils, fresh brewed coffee, fruit purees, cassava, and fresh milks in all of these handcrafted products.
Marianela writes:
I grew up in a predominantly Cuban neighborhood surrounded by the vibrant people, colorful cuisine, and Latin beats.

Cassava Handcrafted Bath and Body is a tribute to my Cuban heritage. I'm continually inspired by the memories of my childhood, stories about Cuba from my father, and all of the food and culture I have enjoyed with friends and family.
You HAVE to try the Caribbean Sea Salt Bar. I can't seem to keep enough stocked in my home, especially when a guest tries it. They can't wait to order it so out it goes with them!
Viva Greetings
Created in 2010 by graphic designer Carla, Viva Greetings designs, manufactures and distributes greeting cards, paper products and gift items with phrases that celebrate the Mexican traditions, culture and language. Her products can be found in hundreds of stores, boutiques and museums around the globe.
Born and raised in Mexico City she spent most of her life cultivating an appreciation for color and culture which clearly influences her designs.
I'm loving the greeting cards with sayings like "Fiesta Time", "Gracias Carino", "Te Amo" and "Luchador You".
Head on over to VivaGreetings and find your favorite dicha on a card.
Latina Meetups Are Coming Your Way!
When something is right you have to run with it.
That's why I'm planning meetups in Miami and New York next.
If you'd like to get a priority invitation, because tickets will be limited, just sign up for my event alerts here.
See you at the next meetup!
And don't forget to check out and support our wonderful sponsors!