Ahhh 2020, the year of the pivot.
We will all remember the COVID pandemic and how it affected us personally and professionally.
My business was impacted several ways, but we were lucky to have been more prepared than many other businesses.
Some of the things we had going for us were:
We were already 100% remote.
We were familiar with zoom and online video conferencing for years.
Most of our business happens online with both our advertising clients and our affiliates.
Our events did take a hit, but moving them online happened rather quickly while others were scrambling to figure out what to do.
Events were a very small part of our business.
I'm going to focus on the area of the biz that was mostly impacted, our LatinaMeetup events.
How did the pandemic affect our events?
There were lots of changes including what we could promise and deliver to our sponsors AND our attendees.
We could no longer offer in-person sampling of liquor sponsor beverages.
Latina chefs and food brands could not show off their creations.
Anything experiential was also a no-go.
Our popular goody bags featuring Latina products could not be handed out.
Also very popular, our free headshot photography sessions could not happen.
I was, and am, very proud of the fact that we have introduced dozens of Latina brands to thousands of attendees and millions of online consumers in their target demographic.
But it was time to, dare I write it, PIVOT.
I had to sit down with our mission statement and dig into whether or not the promise of that statement was still feasible without the connections and experiences that we were able to offer with in-person events.
The LatinaMeetup Mission Statement:
LatinaMeetup is a free community that CELEBRATES, ELEVATES and CONNECTS Latina professionals in an effort to build Latina wealth and influence. Members connect and support each other through events, a directory and a thriving Facebook community.
We CELEBRATE local Latina change-makers at our events to shine a light on our community's Power Latinas, because representation definitely matters. We are currently pivoted to virtual events and will resume our multi-city event tour when it's safe.
We ELEVATE by facilitating the sharing of job opportunities, professional development as well as business growth and funding resources.
We CONNECT through a business directory and thriving Facebook community.
Now let me step back a moment and talk about my outlook and how I work.
Attitude versus a pandemic.
If you've read my work or followed me, you know I'm not a fan of gloom and doom.
You won't catch me raising my fist in the air shouting "why?" any time soon.
I'm more of a pragmatic optimist.
Life has taught me that she will always deal blows and you can't avoid them.
People we love or even we, ourselves will get sick. Some will die, others will be born. Wars will come and go and so will presidents and leaders. Some people will like you, others will not. Industries will come and go, and even though politicians will promise to keep disappearing jobs alive, progress tends to make that choice for us.
I always remind people to think about the last time they met a switchboard operator or a milk man.
OK, let's move on to less depressing stuff.
My view is that the best use of my energy is to focus on the things that I can control.
So I did what I always do. I made a list.
What I can't control:
There is a pandemic.
There was a complete shutdown of our economy.
In-person events are canceled until it is safe.
What I can control:
My reaction speed.
My communication with clients.
My assessment of the impacted parts of the business.
Changes that need to be made.
Create a timeline for implementing changes.
Work on getting it all done.
So back to that mission statement.
I realized that while in-person events really are better for necessary connections, sampling and other things we couldn't do, we were still able to deliver on our promise to our community of celebrating, elevating and connecting in an effort to build Latina wealth and influence.
We re-envisioned our events into a weekly, and later monthly AMIGAS Happy Hour where we featured attendee intros, games and prizes featuring Latina and sponsor brands.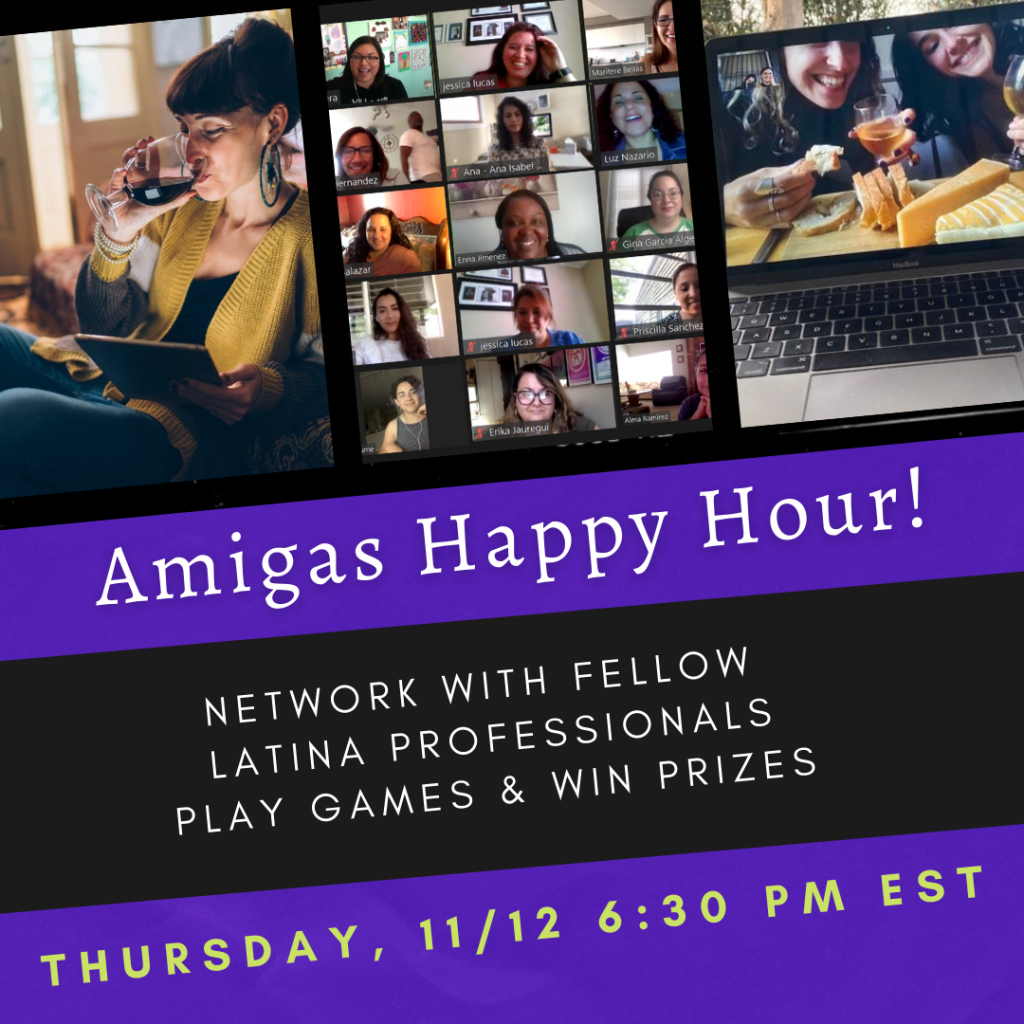 Our sponsorships changed as well.
Some sponsors were also able to pivot and came along for the ride.
Others are waiting it out.
New ones emerged who were excited about the online events and the opportunities to connect with our community in any way they could.
Some events were webinars with important and useful resources.
Others happened in partnership with sister organizations.
All were well attended and gave us a lot of data to learn from.
For example, we noticed higher signups as the months progressed, but attendance numbers dipped. I attributed this to the onslaught of new online events as the months progressed competing for the same attendees.
All of a sudden, everyone was promoting online events.
If I wanted to, I could have attended an online event every single morning, afternoon and evening.
We mitigated that loss by ensuring our content was really targeted to our community and we were rewarded with amazing retention rates that many competitors were not achieving.
Looking back at this year, I can say that while I will still always be a fan of in-person events, I am definitely sold on keeping online events going as a way to support our overall mission with LatinaMeetup.