I get it. Social Media is the equalizer of all things sales.
It enables us to have access to anyone we want.
Everyone is just a tweet away or DM away.
That doesn't mean that EVERYTHING about sales is a shortcut.
You still need to give value.
You still need to build a relationship.
Especially in B2B where relationships are everything.
I've been communicating and selling on social since social networks were born.
And I've seen some doozies as far as outreach is concerned.
Here are some of my favorite fails from folks reaching out on LinkedIn.
DIDN'T DO YOUR HOMEWORK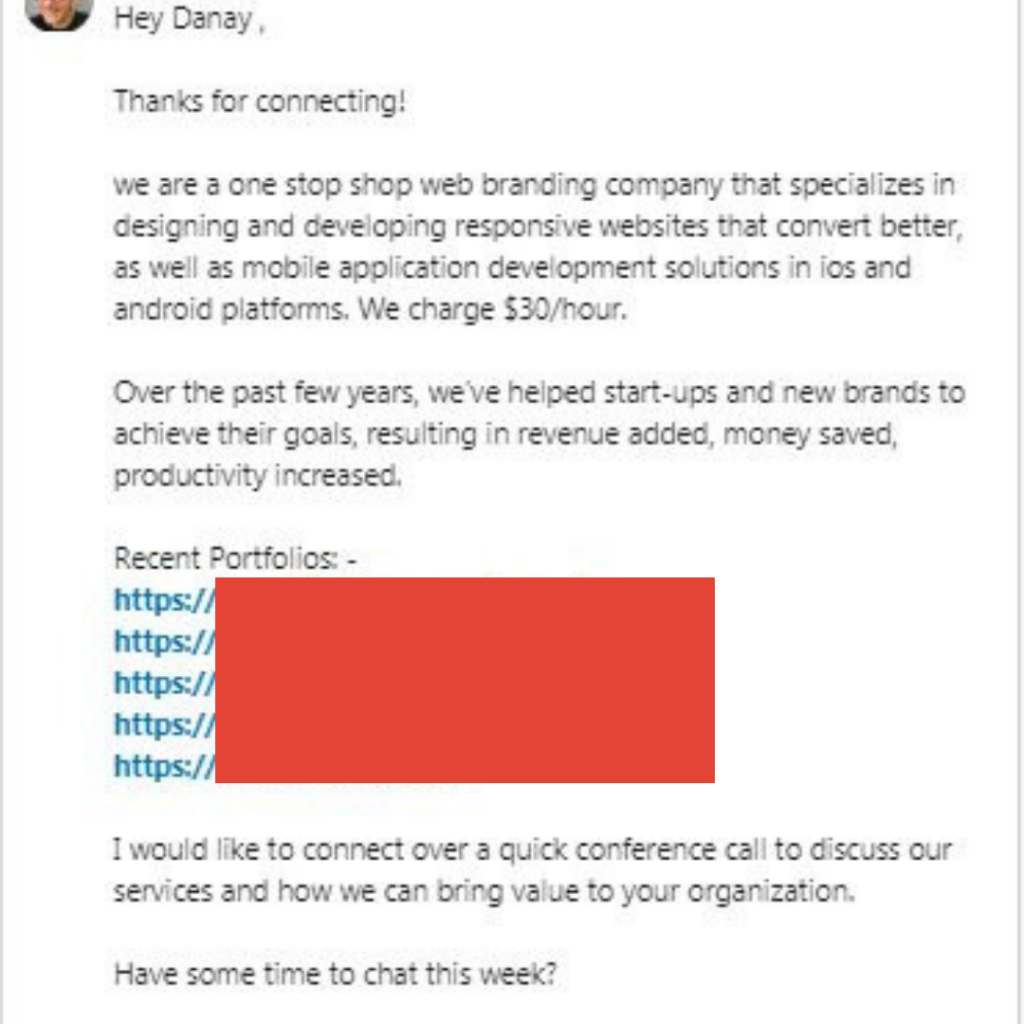 Out of all the outreach emails, texts and DMs I receive daily, my favorites are the canned ones like the one above.
They are possibly using an automated program to mass send a message in the  hopes that someone will bite. If they are doing this manually, that's even worse. It's also a huge waste of time and effort.
Ten messages to prospects that are personalized and well researched will outperform 1,000 mass ones any day. Take time to get to know your prospects and mention something you like about their company or their work. Something to the effect of, "Hi John, I love what ABC Corp is doing with women's empowerment and I would love to connect and learn more about you and how we can possibly collaborate." Then you can follow it up with a call-to-action. This isn't a hard sell, because social outreach is just not the place for it.
FORGOT TO CHECK GRAMMAR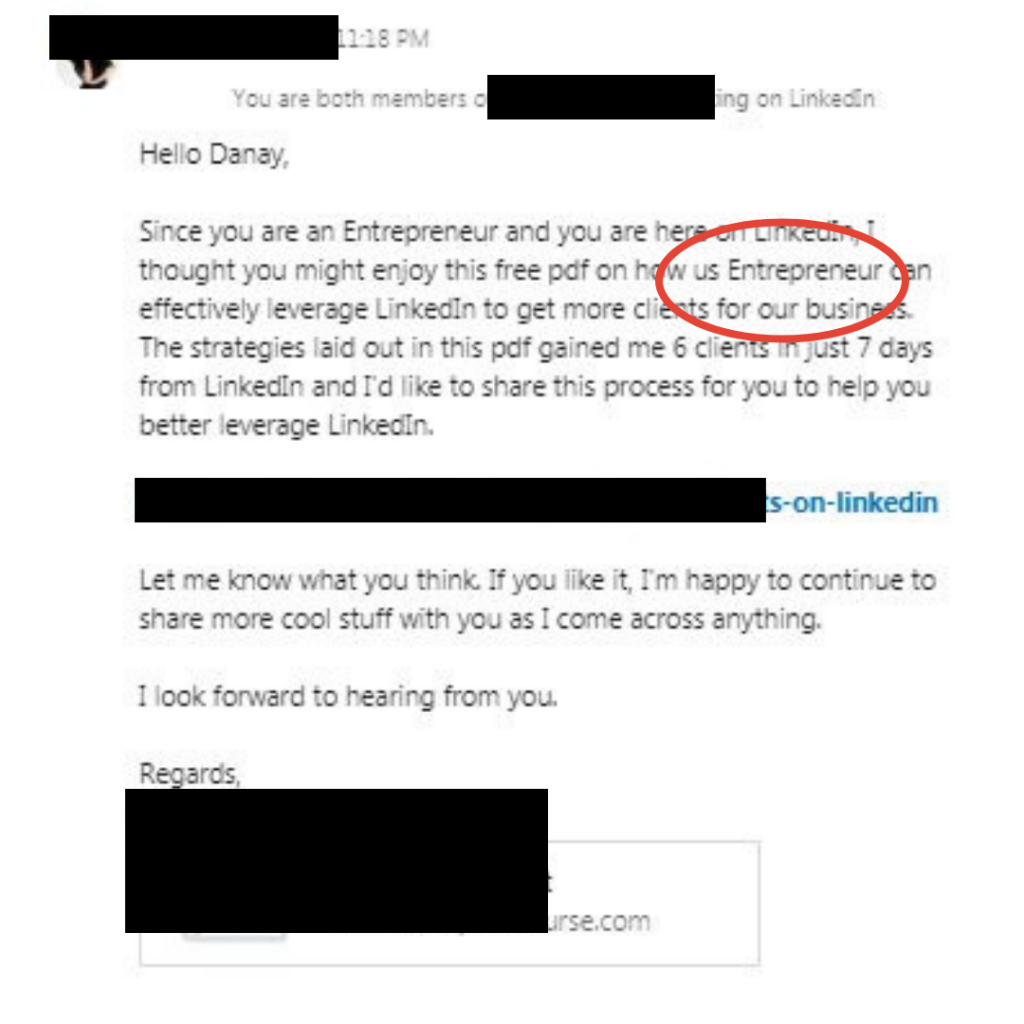 I'm sorry folks. There is just ZERO excuse for bad grammar in business outreach.
There are a bazillion applications that will check your grammar for you. It is simply unprofessional.
USED WRONG NAME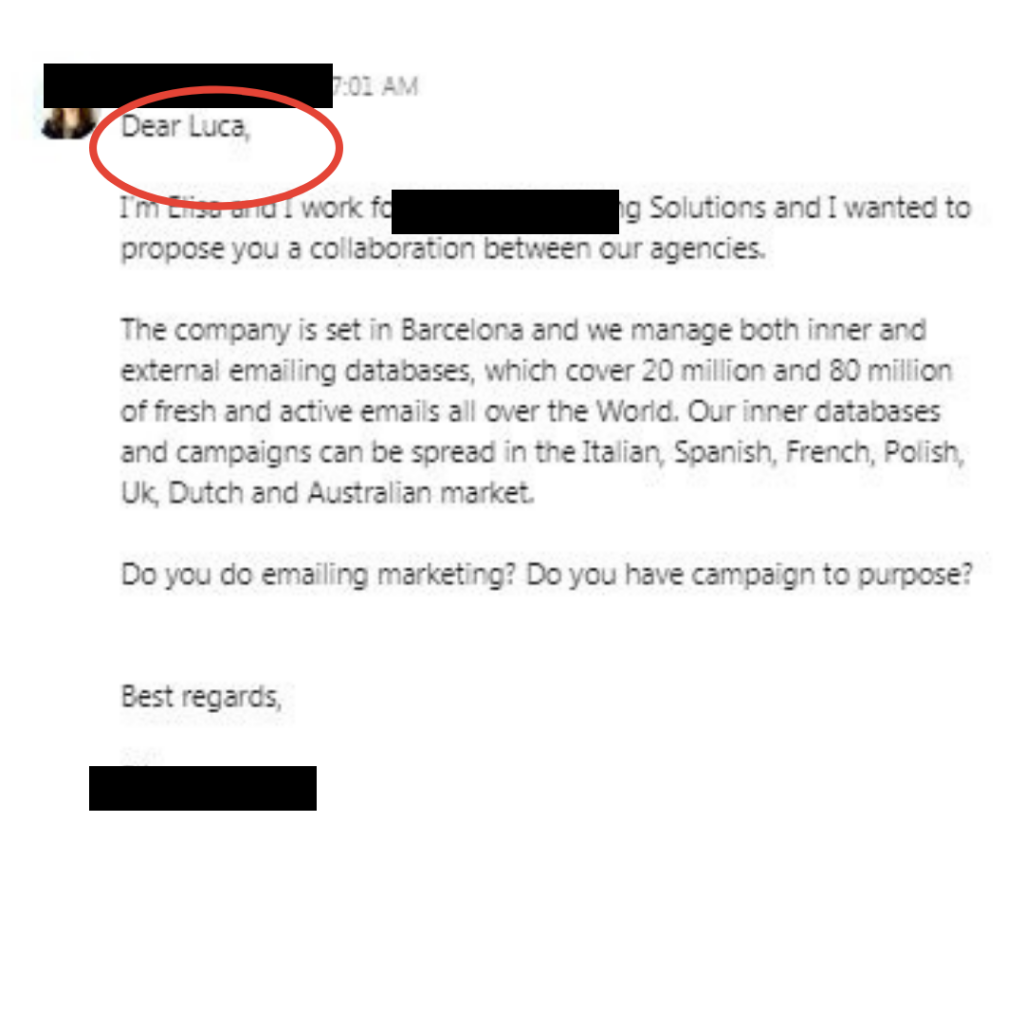 I know we all have templates we work off of for our outreach. That's normal.
What's NOT OK is forgetting to make sure you at least change the name of the person when reaching out.
This is usually an immediate delete.
This tells me that this person is careless and lacks attention to detail. Would you want that person to handle your account?
GOOD EXAMPLE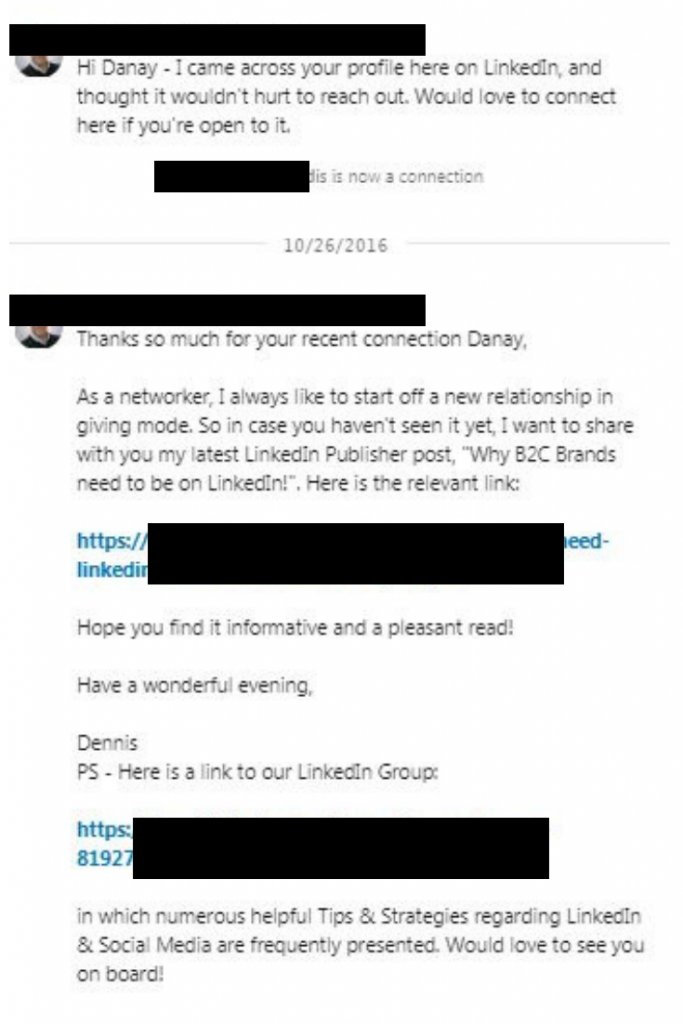 Here is a great example of a well done outreach.
He first connected without any selling whatsoever.
He then followed up with something of value, again, no selling.
Later, after we established a relationship, we had a discovery call and continued from there.
Even if it didn't turn into a sale, we now have a relationship where he can freely reach out to me where I am open to what he has to say.
My only criticism here is that he didn't personalize it to me. I know it was canned, but I bit anyway because it was not an effort to hard sell. Instead, it was an attempt at simply connecting, giving, and building from there.
FINAL THOUGHTS
I have hundreds of examples just like these across many social networks. None of the hard sells, bad grammar or wrong names get answered.
The lesson here is to take your time to learn about your prospects, check your grammar and be meticulous. This is your first impression, so make it count.
How do you respond to these types of messages?