This post  is sponsored by BODYARMOR.
It's summer here in Virginia and that means a lot of baseball for this familia.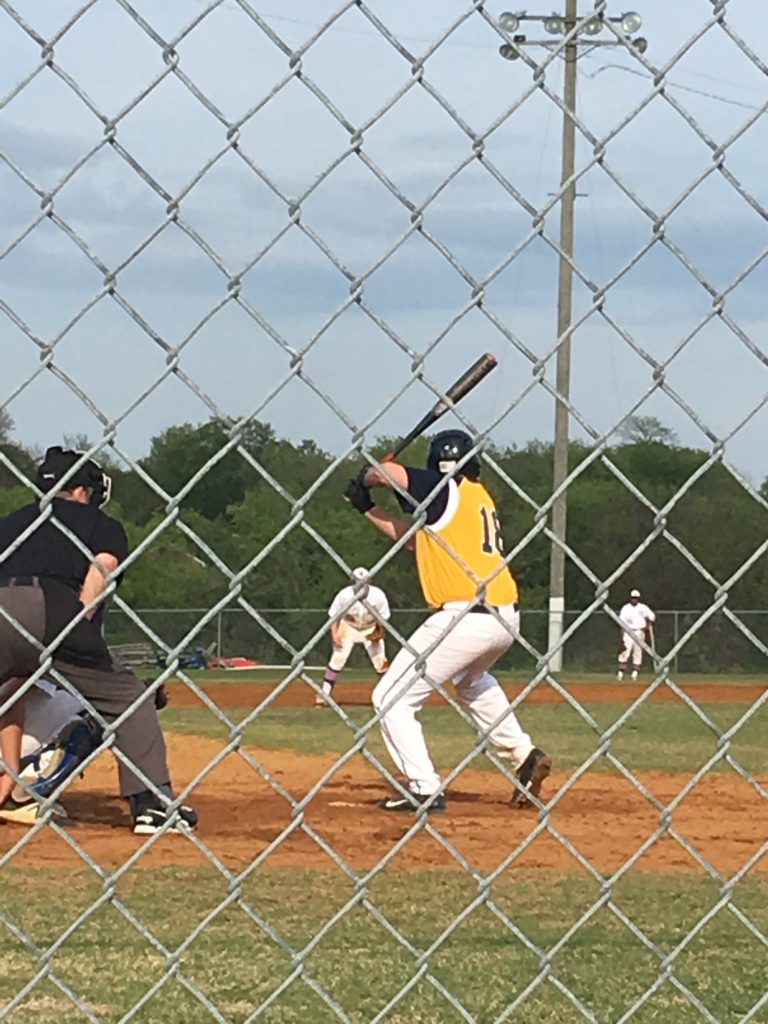 We have summer league, travel league and high school summer ball happening within weeks of each other.
May-July is summer league and travel ball happens beginning mid-July. After that, the school's summer league starts in August. Our evenings and weekends will be spent either at practice, games or recuperating from games.
The hubby and I have been at this for almost twenty years. Our oldest is 28 and we coached him through little league. He went on to play high-school and college baseball.
It's fun and we love the camaraderie and community that we get to build with the other families. It's also a great way to stay involved your kids' lives while being a mentor to their friends. Having a dad coach is also a source of pride for kids.
Our youngest who is 15 and lovingly referred to as the teenybopper also plays high-school ball. Between them, we have been involved with baseball for what seems like forever. In fact, our oldest sometimes coaches the teenybopper's team with his dad.
Some of my best memories are on the ball field.
After so many years of doing the baseball shuffle, I've become the mom who is always prepared for anything at the games.
Here's a list of my top essentials
Water
We're dealing with teen boys here. You can count on there always being a kid or two who doesn't bring their water, so I always bring waters for everyone. The kids need to stay hydrated, especially when it's hot out. My new favorite is BODYARMOR SportWater which is a premium sport water designed by athletes, for athletes. It has a Performance pH of 8+ plus a proprietary Sports Electrolyte formula, giving your young athlete's body exactly what they need.
Sunscreen
As much as they hate it, I make them wear sunscreen. And most of the time, the other parents are super thankful.
A cooler with sports drinks.
These kids play hard. They need something to replenish them after playing their hearts out. Recently, I've really grown to like BODYARMOR sports drink. Unlike other artificial sports drinks, BODYARMOR contains natural flavors and sweeteners, potassium-packed electrolytes, coconut water, vitamins and no colors from artificial sources.
Right now, my favorite flavor is Strawberry Banana but they come in a variety of others including Orange Mango, Lemonade, Fruit Punch, Tropical Punch, Blackout Berry, Mixed Berry, Grape, Pineapple Coconut, and Watermelon Strawberry.
Starting in 2018, BODYARMOR Sports Drink is now available in 6-Packs across the U.S. at several local retailers including Target and Food Lion. It is available in four flavors including Strawberry Banana, Orange Mango, Fruit Punch and Peach Mango LYTE. Click HERE to SAVE TWO DOLLARS NOW on BODYARMOR 6-packs.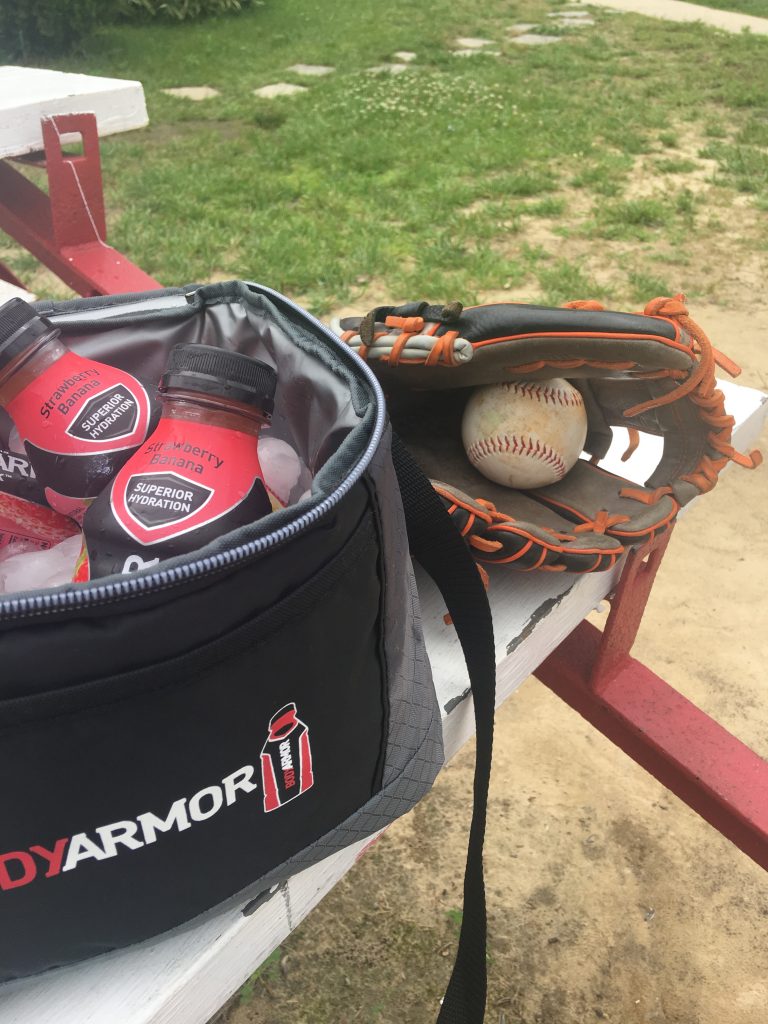 First aid kit
Injuries are a given when you play sports. Having a first aid kit is just common sense. We'e dealt with everything from a broken nose to a dislocated shoulder. You always want to have a kit around to manage the minor AND the major stuff while you wait for the professionals to arrive if you need them.
Extra pair of clothes and shoes
Again, teen boys here. If you have had the pleasure of raising one, you know they are talented at being stinky. I prefer letting them change in the restroom and stuffing the nasty uniform in a bag. It doesn't always happen, but I like to at least be prepared for the glorious day when I hear, "mom, did you bring my clothes so I can change before getting in the car?"
Baby wipes
Do I really need to go over why this is an essential? Baby wipes have revolutionized the world. Enough said.
Chair
I care about my back. Those bleachers are brutal and I just can't with them. I have an awesome chair that goes with me to every game and practice. My back is grateful.
Gum
I'm not a fan of gum, but it's part of the whole culture of baseball. The kids love chewing a wad of gum when they are on the field, at the plate or in the dugout.
Score book
I usually end up keeping score for the games. Even if I don't have to, I like to do it on my own so that I can keep up with the game and discuss errors with the coach and the teenybopper later. It enables us to teach him how to always analyze his performance in an effort to grow as an athlete. It's also a really good life lesson to check oneself and always be open to learning and growing as a person.
Final thoughts
There you have it, my baseball mom essentials. I'm really enjoying the BODYARMOR Sports Drink they sent me to review. Since I'm a huge fan of the brand I expected it to be a great product and I was not disappointed. They are bursting with flavor and refreshing at the same time.
The real test was what the teenybopper thought of the drink. As you can see, he loved them too.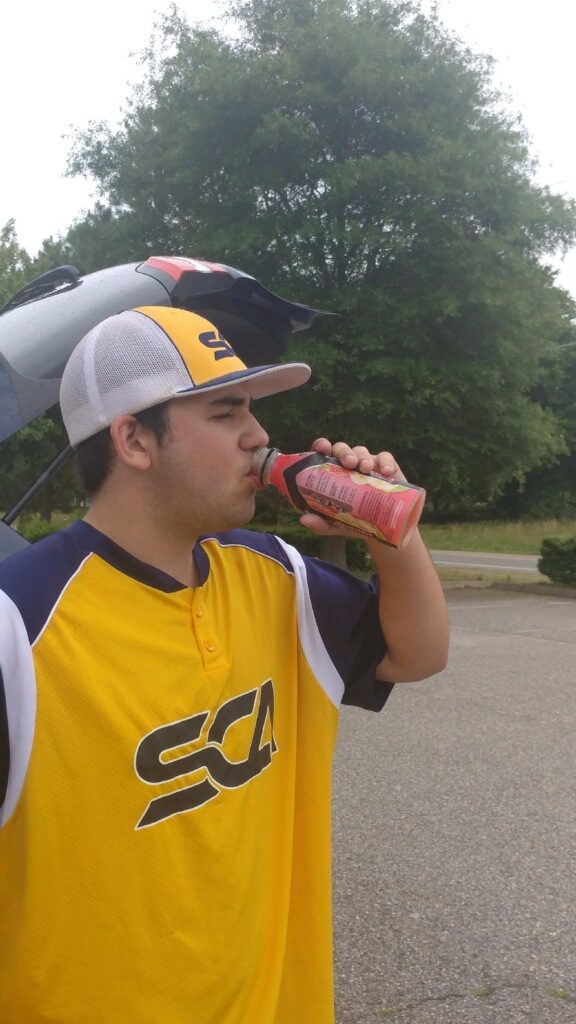 And if you're watching the calories like me, check out their newly released BODYARMOR LYTE Sports Drink, a natural, low-calorie sports drink with potassium-packed electrolytes, coconut water, and vitamins. At only 20 calories per serving, it's a sports drink I can have too. It's naturally flavored and sweetened (with pure cane sugar, stevia and erythritol) and has no colors from artificial sources. You can choose from four flavors of BODYARMOR LYTE – Peach Mango, Cherry Berry, Orange Citrus, Blueberry Pomegranate.