The good thing about visiting a theme park several times is that you don't have to rush through everything. And I will admit it, I am a Park Nazi. I am THAT person who needs to schedule our park visit from the crack of dawn until they kick us out. I will drag my family across miles and miles of attractions and shows to make sure that we get to see everything the park has to offer.
I need to see every. single. thing.
Since we visit Williamsburg, Virginia quite often (read several times per year), we really get to enjoy the area and everything it has to offer. This includes Christmas Town at Busch Gardens. The holidays are a magical time when the entire park is transformed with over eight million Christmas lights, making it the largest light display in North America.
We love Christmas Town so much that we keep coming back whenever we are in Virginia during the holidays! And we bring family with us whenever they are in town.
Aside from being a Park Nazi, I am also a show fanatic. If there is a show, I must watch it. Granted, some theme parks really don't put a lot of effort into their shows. However, Busch Gardens parks really do not disappoint. They consistently have great shows. I have been to the parks in Virginia and Florida several times across decades and have not yet attended a show I didn't like.
There were a lot of shows to see, such as Gloria, Deck the Halls, Miracles, O'Tannembaum, T'was That Night and Scrooge No More. My favorite hands down was Scrooge No More. It's a fun packed 30-minute musical based on A Christmas Carol by Charles Dickens.
My husband and son go bananas over the chocolate. They have so many different varieties of fudge that you can't help but to buy something because there WILL be a flavor you like. Not to mention the hot chocolate mugs on every corner. Who doesn't love hot chocolate on a cold winter night while strolling along looking at Christmas decorations? The great thing about going to a theme park is that even though you may indulge in some of the yummy concoctions, you are also clocking in an average of 5 to 10 miles walking. At least that's what I like to tell myself.
Mr Teenybopper is my roller coaster buddy. He and I seem to be the only ones in this outfit who love thrill rides, so we like to hit the coasters Tempesto and Verbolten over and over until one of us begs for mercy.
My mom enjoys all of the little themed shops. A favorite was this great little shop with fairies and dragons and all kinds of cool trinkets.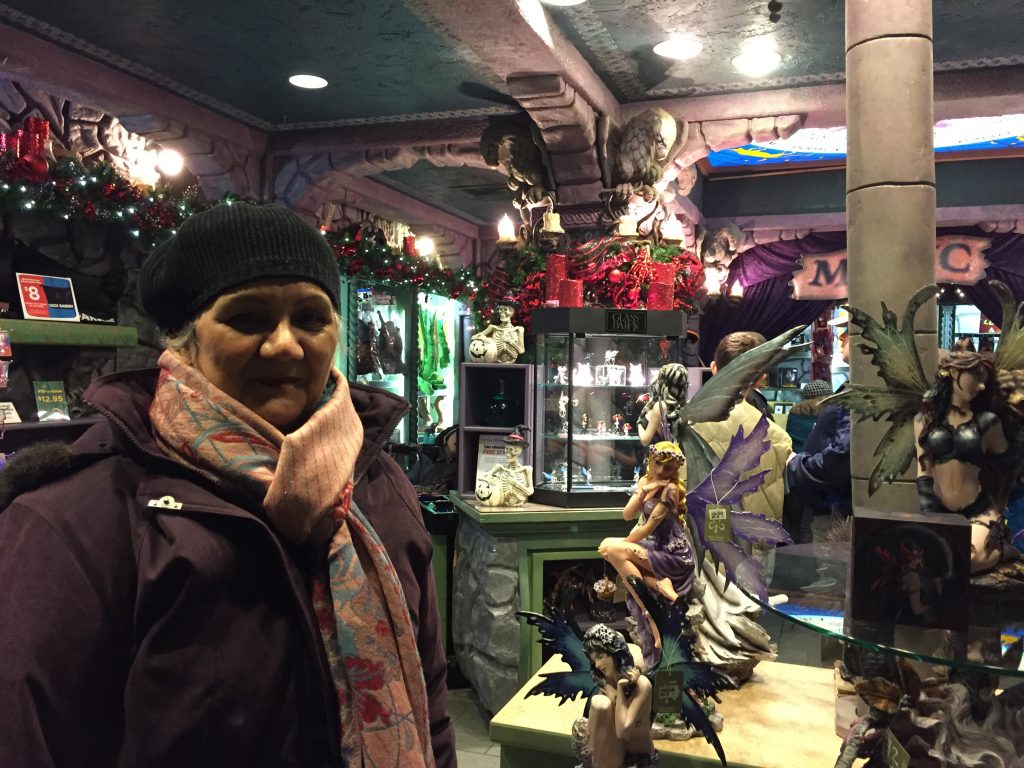 And, of course, being a baseball family, the teenybopper got to get some throwing practice in. Check out the video and guess whether or not he won the prize!
He sure did, and he made this Mami super proud when he gave it away to the youngest family member present. I know, I know, just give me a little moment to gloat.
Christmas Town usually runs from the Thanksgiving holiday through the new year and the park is open from 2 PM until 10 PM. That's a good 8 hours for my fellow Park Nazis. Tickets will run you about $38 per person at the gate. For the savings minded, there are a slew of great deals including savings of over 50% by booking your tickets online in advance. Since they introduced these advance tickets at $16 per person, the crowds have evened out considerably. The first time we visited in December 2014, my only complaint was the throngs of people and having to navigate through those crowds. This year was so much easier to walk around and enjoy the park due to the crowds being more evened out throughout the entire season the park was open.
Check here for full booking details.