This was certainly an interesting week chock full of insults. The culprits were a teenager and Equifax.
Let's start with the annoying one, the teen. A boy on our son's baseball team visibly cringed when I told him his sneakers were phat. When I asked him what was wrong, he told me that was an insult. I went into an explanation of how it wasn't the derogatory form spelled f-a-t, but it was the cool one, spelled p-h-a-t.
Being a cool, well traveled Miamian, I thought that maybe folks in this part of Virginia weren't hip to the "PH" deal. Yes, I was being judgmental.
Apparently, I'm the one who isn't hip. I learned, compliments of said teenager, that the word to use is actually "phresh" or even plain old "fresh".
If being told I was old isn't insult enough, Equifax threw out a big whopper of one aimed straight for my intelligence as an unwilling customer. That's right. I don't want to be their customer, but I HAVE to be if I want to buy anything or even be considered for certain jobs.
The offending item was not that they were the victims of the largest personal information leak in history to the tune of 143 million people. It was that they assumed I just plain stupid. And they did it several times.
Insult #1: Free (Not Really) Monitoring
They offered victims of the leak a free credit monitoring account for a year. That seems like a good first step until you read the fine print in their terms which states that you agree to not sue them for being negligent.
Luckily, the interwebs shamed them into adding an opt-out clause. Here is what the small print says which used to have no opt-out.
AGREEMENT TO RESOLVE ALL DISPUTES BY BINDING INDIVIDUAL ARBITRATION. PLEASE READ THIS ENTIRE SECTION CAREFULLY BECAUSE IT AFFECTS YOUR LEGAL RIGHTS BY REQUIRING ARBITRATION OF DISPUTES (EXCEPT AS SET FORTH BELOW) AND A WAIVER OF THE ABILITY TO BRING OR PARTICIPATE IN A CLASS ACTION, CLASS ARBITRATION, OR OTHER REPRESENTATIVE ACTION. ARBITRATION PROVIDES A QUICK AND COST EFFECTIVE MECHANISM FOR RESOLVING DISPUTES, BUT YOU SHOULD BE AWARE THAT IT ALSO LIMITS YOUR RIGHTS TO DISCOVERY AND APPEAL.
My suggestion is to sign up for the free year of monitoring, which is the least they can do, and opt out of the clause.
Insult #2: Executives Getting Greedy
I bet you're totally surprised by this one.
Equifax Chief Financial Officer John Gamble, President of U.S. Information Solutions Joseph Loughran and President of Workforce Solutions Rodolfo Ploder all sold shares worth almost $1.8 million days after they discovered the security breach on July 29th.
The hack was not disclosed until six weeks later. They all deny knowing of the hack at the time of the sale.
If you believe that one, I have some oceanfront property in Idaho I'd like to sell you.
Several U.S. Senators are requesting that the SEC and the DOJ investigate. Eric Schneiderman, the New York Attorney General, has opened an investigation into the hack.
Insult #3: False Positives & Zero Support
This is the biggest whopper of an insult, eclipsing the previous two.
When you screw up and allow a breach of your customer information, and you offer them a way to check to see if they were impacted, don't just put up fluff with no real way of checking.
Thanks to the twittersphere, several folks found and shared this little faux pas where the site they used to check if your account was potentially hacked was a pure fail.
https://twitter.com/zackwhittaker/status/906247688768905216
I tested it out and made up several different last names and social security numbers and they all came back with positives. I wish I would have taken some screen shots.
Check out this in depth look by ZDNet.
And because they are on a roll with the screw-ups, they decided to give ZERO support once you check your information and enroll in TrustedID.
It's up to you to be on top of your enrollment as they will not send you any reminders.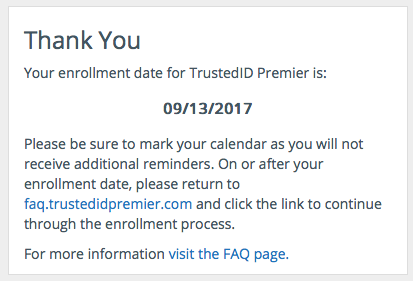 I took a few moments to lick my wounds and rant and now it's time for some action, because a victim I am not.
I will allocate some time this weekend to making sure I'm on top of things.
I will check my credit report across all agencies and making sure all is copacetic.
I will be updating passwords across all banking and credit accounts and make sure I have two-factor authentication set up with them all.
I will be heading over to UrbanDictionary to get woke and update my slang vocabulary.