April Fool's Day is one of my favorite online holidays. Unlike other holidays like Cyber Monday, where it's all about sales, this one is specifically geared toward utter goofiness.
Here is a round up of this year's pranks.
Amazon's Petlexa
If you thought Amazon's Alexa Echo was cool, wait till you see what she can do for your pets. Gone are the days of wondering what Rex's barks mean.
Lyft Mono: Real or Prank?
Lyft really outdid themselves by creating the Mono, a fake (or not) wearable glove with a thumb that will hail you a Lyft car when you stick out your thumb.
The problem with this prank is that Lyft went so far with it by having a pop-up event in San Francisco to show off the wearable and creating an app so that it ACTUALLY WORKS when you stick out your thumb at a street corner to hail a car.
The reason Lyft went so big is because they actually have an executive prankster in residence.
Zappo's Anti-theft Box
If you've ever had a delivery box stolen from your porch, you know how upset that can make you. Zappo's solution is an invisible box.
Google's Ms. PacMaps
I am not sure this one should have been an April Fool's prank at all. I enjoyed it immensely and hope it comes back as a regular Google Maps feature.
Then again, I did end up wasting a good thirty minutes of my life playing it. Not a good idea when you are a hustling entrepreneur where every minute counts.
Once I got the hang of it, I was mastering it like my 12-year old self once did the real Ms. Pac Man game. Booya!
The Ms. PacMaps was such a hit that there were stories everywhere with guides for the Best Place to Play The Game.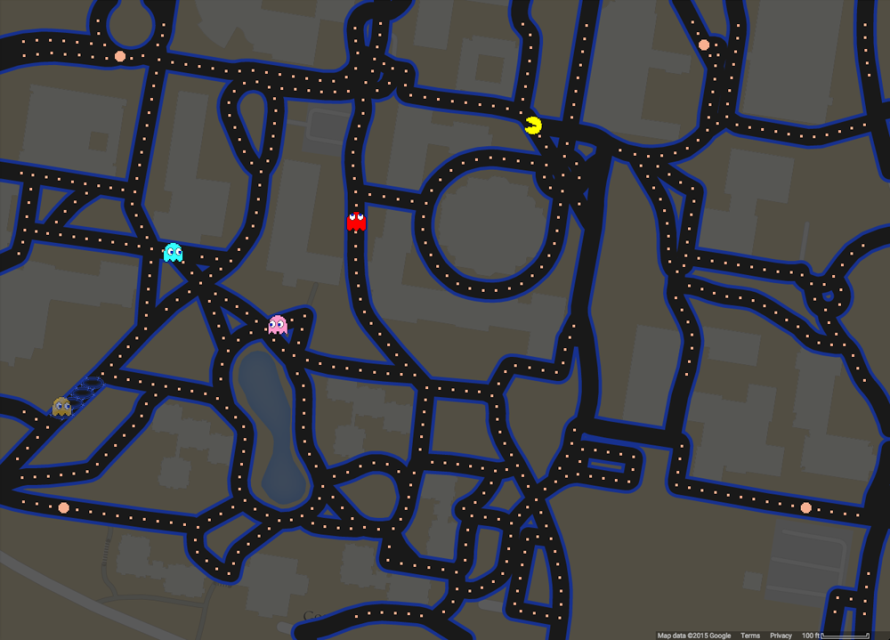 Google Gnome
Google couldn't just release one prank, so they graced us with the outdoor equivalent to Google Home.
I would totally buy this, and I don't think I'm the only one. Are you listening, Google?
T-Mobil'es Onesie
Wearables are seriously taking over, so why not a onesie, says T-Mobile.
Hulu Hu
Hulu's answer to our rapidly declining attention spans is their Hu service. It condenses all your favorite shows into 8 second clips so that you can play catch-up without having to watch the actual shows. I say brilliant and please make it a real service. Again, I'll pay.
Snapchat Instagram Filter
One of my favorite pranks was from Snap, the parent company of Snapchat.
Since Instagram pretty much ripped off their stories feature, Snapchat decided to make fun of them by creating an Instagram filter so that when you took a snap and looked for filters, it turned your image into an Instagram post.
This one actually worked on me, so I would say it was the winner. I took a snap and then got confused thinking I did it in the wrong app.
The funniest part of the prank was the comment from "my_mom and 2 others" basically implying that those were the only people using Instagram. It was a total burn and super funny.
Snapchat has a filter to look like Instagram THE SHADE😂😂😂

— Charlie Wilson (@charliewiIson) April 1, 2017
Loooool snapchat firing shots at Instagram with this filter. SOCIAL MEDIA WARS > everything pic.twitter.com/KpkJzkj6WK

— Michael Timbs (@MichaelTimbs) April 1, 2017
ThinkGeek's 4/1 Gags
ThinkGeek comes out with some interesting prank products every 4/1.
My favorite is the Swim Desk, because the standing desk is so 2016. I can't say I wouldn't consider purchasing this.
There's also the Westworld Full-Body Snake Temporary Tattoo, for those folks who want to feel prison-worthy bad-assed without really committing to it. It's based on the HBO show Westworld.
There were many other pranks like Elon Musk's tweets about Chemtrails and Trulia's pet listings, but they really didn't delight me enough to warrant adding to my list.
I would love to know which was your favorite prank and which you would actually like to see be a real thing.